Smart city device shipments to hit 1.4bn in 2026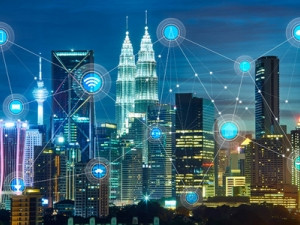 Global smart city device shipments will increase from 202 million in 2017 to 1.4 billion in 2026.
This is according to market research firm IHS Markit, which says the smart city market continues to grow, presenting great opportunities for all players, despite its fragmented state.
IHS Markit points out this fragmentation appears in the type of smart city projects developed, in the technology, ecosystem and solutions.
Smart city devices are new Internet of things (IOT) applications that leverage ubiquitous connectivity, big data and analytics to enable smart city initiatives all over the world. These new applications introduce new capabilities such as the ability to remotely monitor, manage and control devices, and to create new insights and actionable information from massive streams of real-time data.
The analyst firm uses its database which tracks more than 700 smart city projects, city profiles, case studies and market reports analysing pivotal aspects of the market from technology to strategy and business models.
IHS notes vertical applications related to physical infrastructure and mobility show particular potential for growth - in 2026 these applications are expected to comprise approximately 65% and 22% of total device shipments, respectively.
It believes the largest market will be Asia-Pacific with more than 700 million smart city device shipments by 2026.
Other key regions will be North America and Europe, with more than 400 million and 200 million shipments, respectively.
"Smart cities are long-term prospects, and companies and cities involved are wise to focus on long-term results. The more smart city initiatives tackle fundamental issues facing cities and countries, the more they are likely to become essential parts of government and business agendas. As a result, the entire value chain will grow," says Pablo Tomasi, senior analyst for smart cities and IOT at IHS Markit.
The analyst firm says smart cities are home to many projects with diverse scopes and sizes across various verticals, although pilot projects remain most common as the market continues to test solutions, models and results.
Tomasi explains that players in the market range from start-ups to international giants and span a variety of backgrounds, from telecom operators and network vendors, to software companies, device manufacturers and connectivity players.
Each company works to advance its own market strategy, contributing to a fragmented landscape, he points out.
Tomasi notes market fragmentation is also evident in the wide array of competing technologies used for smart city initiatives.
"These include the proprietary, such as Sigfox, and the standardised, such as 4G and NB-IOT. Long-term, few technologies will obtain a leading market share; however, the shakeout process will be long, and multiple technologies that target different use cases and needs will continue to coexist.
"Successful business models should leverage an extremely wide ecosystem of possibilities and collaborations to move the market into its next stage."
According to IHS, most smart city projects remain in the pilot stage, with key obstacles which must be addressed before the full development of the market can occur. Business models which promise long-term project sustainability and desired results are a key market challenge, the firm says.
"Given the nature of the market, opportunities can be strengthened by leveraging adjacent sectors. Whether through advertising or leveraging mobile network deployments, business models can tap into other revenue streams to monetise a smart city initiative," Tomasi notes.
He adds the market will continue to grow as it tackles major issues affecting multiple stakeholders, from governments to cities and citizens.