State condemns security leaks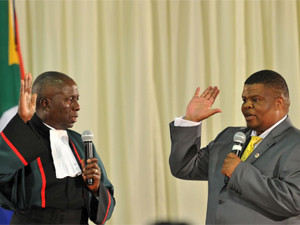 Minister of state security, David Mahlobo, has reacted in strong terms to media reports suggesting classified intelligence reports have been leaked, including those from South Africa.
Reuters reported that Britain's Guardian paper and Gulf TV channel Al Jazeera said they had obtained hundreds of dossiers, files and cables from the world's top spy agencies to and from SA, dubbing it "one of the biggest spy leaks in recent times".
Mahlobo says this alleged release of classified intelligence reports of international intelligence organisations, including those of the State Security Agency, would have been illegally disclosed.
"While it is an international practice for countries to share intelligence on cross-cutting issues pertaining to economic opportunities and security matters among others, the leaking of the purported documents detailing operational details of the State Security Agency is condemned in the strongest possible terms," he said in a statement.
The wire service says the biggest revelation so far is an assessment by Mossad that counters Israeli prime minister Binyamin Netanyahu asserting at the UN in 2012 that Iran was a year away from making a nuclear device.
Iran was "not performing the activity necessary to produce weapons", the Israeli agency said in one report that outlined its understanding of Tehran's attempts to produce enriched uranium, the main ingredient for a nuclear bomb, Reuters reported.
Yet, the wire service says the serious issue for SA, a prominent 'non-aligned' state reluctant to take sides in international disputes, is that another cable reveals how Washington coerced Pretoria into spying on Iran, with which it enjoys firm diplomatic and commercial ties.
Mahlobo notes the disclosure of information, outside of the classification protocols in place, has the "dangerous effect of undermining operational effectiveness of the work to secure this country and borders on undermining diplomatic relations with our partners in the international community. Any leakages of classified information undermine the national security of any state."
A full investigation has been launched into the purported leak, and verification will be handled in terms of the protocols governing the management of classified information, said Mahlobo.
"The minister would like to assure all South Africans that the State Security Agency will continue to focus on its mandate to protect and secure the integrity of country, its citizens and critical infrastructure."
The Right2Know campaign has also commented on the leaks, saying it expects SA's state security structures to "paint these leaks as a hostile act, and use this event to seek greater control over the flow of information". It adds the leaks may even be used as a pretext to sign the Protection of State Information Bill (the so-called Secrecy Bill) into law.