Vodacom's Virtual Teacher goes rural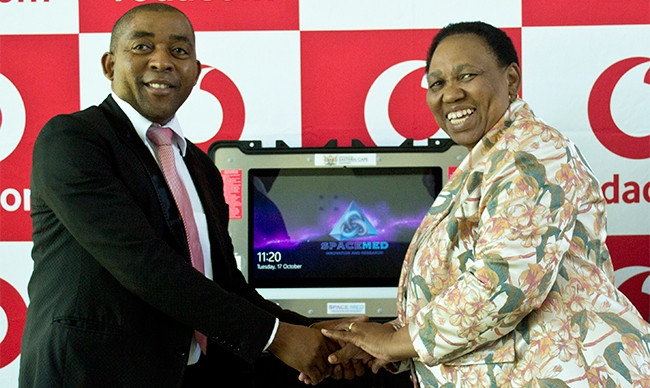 Government is working with Vodacom to address some of the challenges facing the country's education system, particularly in remote and under-achieving schools.
This is the word from basic education minister Angie Motshekga, speaking yesterday at the launch and demonstration of the Virtual Teacher platform at Vodacom's head office in Midrand.
A result of a partnership between the department and Vodacom, the interactive technology platform allows an individual teacher or lecturer to deliver lessons in real-time to multiple remote classrooms or locations simultaneously. Through a range of smart devices, learners can join classes from anywhere and at any time.
"The future of the South African education system is digital and in order for us to transform accordingly, we must embrace the opportunities this [platform] offers to leapfrog infrastructural backlogs and legacy issues in our schools," said Motshekga.
"This is not the first time we partner with Vodacom; we have been working with the telco for nearly five years on various projects. This particular project, however, will be a game-changer in the sense that it focuses on the core essence of bringing valuable solutions and processes to enable delivery of quality education for underprivileged schools," she added.
Vodacom says the platform encompasses a camera, microphone and streaming unit, which can be streamed from any device. Lessons can be pre-recorded if needed and recorded content can be downloaded to any device. Content can be zero-rated by Vodacom if required.
"It can also accommodate unlimited viewer numbers, while the technology enables live interaction with the remote audience through a texting question and answer facility for written responses during the lesson."
The platform was first launched last month in the Eastern Cape alongside the provisional Department of Education, in an attempt to improve the matric pass rate in the province. The platform will be used to provide extra classes to students at selected districts in the province, including deep rural areas like Mdantsane, Maluti, Lusikisiki and Mt Frere.
Vuyani Jarana, chief officer at Vodacom Business, says the decision to introduce the system in rural areas was intentional as these locales provide some of the harshest areas and a viable 'testing ground'.
"We wanted to take it to the harshest parts of the country where there are challenges such as electricity and infrastructure. This gave us the opportunity to demonstrate the platform at a national level that it is adequately equipped. We will be engaging other provinces, such as Gauteng, Free State and Western Cape to integrate the platform into their learning processes."
Jarana adds that training for educators is being provided at the 143 countrywide digital teacher learning centres. "Our digital literacy plan is already under way, where educators are being equipped with adequate skills to integrate technology into their daily teachings."