LEAP schools boost learners' tertiary prospects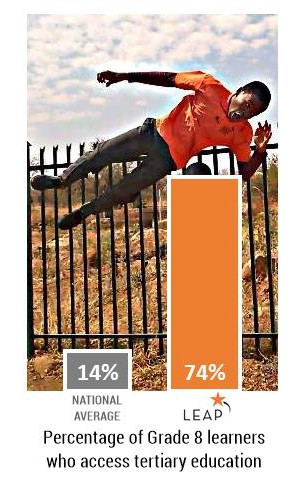 As matriculants face the pressure of beginning their final examinations this week, there is also the weight of expectations for the results of the class of 2017.
SA's matric pass rate has long been under pressure as learners often fail to produce stellar results. Pass rates in subjects such as mathematics and physical science, two critical subjects for the advancement of the country's ICT sector, have also been minimal.
The 2016 South African Science, Technology and Innovation indicators report shows the lack of progress in the country's research and innovation human capital pipeline as a result of the waning performance of matric learners in maths and science.
Reasons such as legacy systems have often been attributed to the country's lacklustre matric pass rate.
Inclusive education
According to Greg Reis, founder and CEO of BSG, which is a corporate LEAP schools partner, SA's skills shortage is the result of a fundamentally flawed education system.
Reis, however, believes LEAP Science and Maths Schools have a critical role to play in addressing some of the pass rate shortcomings and can help develop a stronger pipeline of skilled learners entering varsity.
Founded by John Gilmour in 2004, LEAP Science and Maths Schools are no-fee, independent schools established to help marginalised learners obtain access to tertiary education.
LEAP schools, currently six in total, work in some of the most economically and socially marginalised communities nationwide. Two schools are located in Cape Town's Langa and Philippi townships, and another two in Johannesburg's Alexandra and Diepsloot townships.
The remaining other two schools are in Ga-Rankuwa in Pretoria and Jane Furse in Limpopo.
Gilmour explains that learners are only recruited from the communities in which the learning institutions operate, and provide access to quality education to those who self-identify through their determination to commit to the rigorous demands of the school.
"The core belief at LEAP is that any child, no matter how impoverished their background, is capable of graduating from school and qualifying for tertiary study if given the right educational opportunity and support."
He describes LEAP's academic intervention as one that begins with smaller classes and schools to encourage accountability and help build relationships.
"LEAP has an extended school day (nine hours) and provides Saturday classes and holiday programmes for learners needing extra academic support. With a few exceptions, all learners are required to take English, mathematics and one science subject. This combination of high-need subjects increases the choices learners have when accessing tertiary education."
Results-driven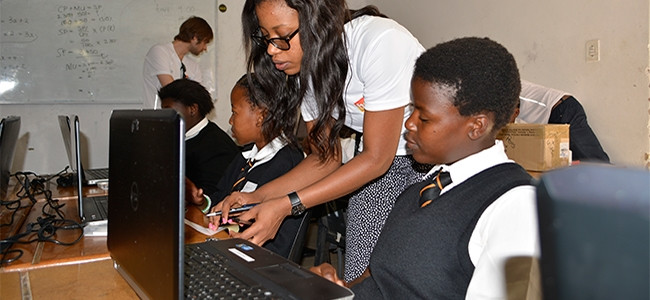 In 2016, LEAP Science and Maths Schools achieved a 97% pass rate for grade 12 and 67% bachelor pass rates, with over 90% of the learners gaining admission to further their tertiary studies.
A study of the first five years of learners entering LEAP high schools showed 74% of learners went on to tertiary education, Gilmour points out.
According to Reis, BSG decided to work with the schools 10 years ago. BSG is a locally-based professional services and technology firm.
He says BSG has chosen to focus on education and is determined to invest in and support it as much as it possibly can.
The trend in SA's education system with regards to how many kids finish the 12-year school cycle has been on a decline for years now and if it remains this way the country will continue to produce few numbers of the talent required, Reis states.
"Schools like LEAP Science and Maths Schools are an inspirational platform, which instils a wonderful value system within these kids.
"What these schools have done is that they have focused on children that come out of the most desperate situations and helped them to be successful in what they achieve at the end of their grade 12 examination. This has enabled them to attend tertiary education."
Education specialist Graeme Bloch says although LEAP schools have been instrumental in helping learners achieve best results for entrance into tertiary, there are too few to make a significant difference to the matric pass rate averages.
However, they make a difference and contribute to tertiary entrance, Bloch adds.
Future prospects
Opening new schools is not the current focus and Gilmour says these will only be established in marginalised communities when sufficient funds are provided to ensure the schools have at least a five-year full funding plan.
The schools would love to partner with any investors who may have school development in their sights, he notes.
"We envisage an increase in student enrolment from 1 035 learners to at least 1 400. This significantly increases our per learner modest government subsidy. We believe we will grow our numbers beyond 1 500 in the next three years without significantly increasing our running costs," he concludes.