Samsung trains women in mobile electronics repair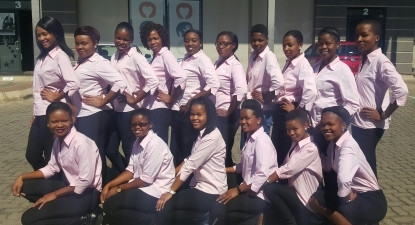 Sixteen young women, aged between 19 and 33 years, graduated from the Samsung Women's Technical Programme in Johannesburg yesterday.
The programme, which falls under the Samsung Engineering Academy, is a nine-month course providing women from previously disadvantaged backgrounds with technical training in the field of electronics.
These skills, according to Samsung Electronics, range from replacement of main cellphone boards, to diagnostics checks, trouble shooting, empathy training and customer service training, among others.
Richard Chetty, Samsung Electronics SA services director, says SA has a shortage of skills in various disciplines of information technology. It was especially important to introduce women to the mobile electronics repair environment, as 99% of employees in this field are male.
"The mobile technical field is completely male-dominated. The only women working within the field are receptionists, admin assistants and booking clerks etc.
"However, women are a lot more analytical and quality conscious than men. At Samsung Electronics we felt the need to empower young women from previously disadvantaged backgrounds and give them an opportunity in the electronics repair environment," he explained.
Chetty added these skills fall in the scarce skills category. They are high demand expertise, yet not enough people in SA have them. The lack of such skills directly impacts on the economy and the advancement of the country.
He attributes the scarcity of women in this field to the mindset of companies who seek to only hire male employees.
"Organisations tend to generally hire males as there is a misconception that they are able to repair things better than females, however this is not true," he notes.
He says the nine-month programme, which was established in August 2015, is designed to alleviate unemployment through technically training women and preparing them to work within the electronics industry.
Only 16 women were selected out of a group of 40 students from the Samsung Engineering Academy.
"Next week the graduates will be placed in jobs as technicians at larger Samsung service centres situated in various parts of Gauteng such as Woodmead, Midrand and Ekurhuleni.
"The next batch of students will be interviewed in May and classes will resume in the first week of June."
In order to be selected, the women candidates must have a National Senior Certificate (Grade 12) and they must have done well in maths and science.
Having basic electronics knowledge and a driver's licence will be an advantage, Chetty elaborates.
The programme, which is currently based in Gauteng, aims to expand to other parts of the country and various mobile service centres will be set up throughout South Africa, he concludes.