Vodacom grows SA subscribers to 39.4m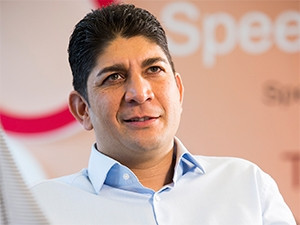 Vodacom added 2.5 million customers during the first quarter of its current financial year, with 2.3 million of those in SA.
This is according to the mobile operator's trading update for the quarter ended 30 June, released today. Vodacom now has 39.4 million users in SA and almost 70 million across its five operations in Africa.
Vodacom group CEO Shameel Joosub says the telco's solid performance during the previous financial year continued into the new quarter. This as group revenue grew 3.9% to R20.7 billion year-on-year. If growth was normalised and currency translation effects were excluded, revenue would have been up 7.7% for the quarter.
"We remain cognisant of the weaker economic conditions that prevail in SA, as well as some of our larger markets, and have put measures in place should these conditions deteriorate materially in these markets," Joosub adds.
Group service revenue grew 1.7% year-on-year, to R17.1 billion, while group data revenue continued its rise, now growing by 15.1% year-on-year, to R6.7 billion. Data revenue now represents 39% of service revenue.
SA rising
Locally, the group grew its customer base by 12%, adding 2.3 million new customers, 2.2 million of which were prepaid customers. Vodacom extended its lead over the competition with its 39.4 million local customers, well ahead of MTN's 30.2 million (as of 31 March 2017); Cell C's 15.3 million (as at 31 December 2016) and Telkom's almost four million (as of 31 March 2017).
In SA, revenue growth accelerated to 7.8% aided by stronger device sales - with smartphone sales growing by 29% and making up 57.4% of total device sales.
Service revenue was up 5.6% to R13.1 billion for the quarter, supported by continued growth in the local customer base and strong demand for data. Data revenue grew 18.1% in SA, to R5.5 billion, contributing 42.2% of service revenue. Meanwhile, voice revenue declined 4.2%.
"The 9.1% and 18.9% decline in effective voice and data prices respectively over the quarter reflects our commitment to driving down the cost to communicate in South Africa," Joosub adds.
"As I have stated previously, there is more work to be done on this front, and we will be introducing additional measures this year to give greater control to customers by improving our out-of-bundle pricing."
The group says its continued investment in infrastructure resulted in SA's 4G population coverage now being 75.9% while 3G covers 99.2% of the population. This as Vodacom added 463 000 4G customers in the quarter, reaching a total of 5.5 million customers "as devices became more affordable as a result of improvements in exchange rates".
Active smart devices on the network increased by 18% to 16.6 million, with the average monthly data used on these devices increasing to 734MB per device. Internet of things revenue was up 28.9% in SA to R192 million.
International markets stutter
The group's operations outside of SA - in Tanzania, Democratic Republic of the Congo (DRC), Mozambique and Lesotho - only added 280 000 new customers in the quarter.
International revenue declined 8.2%, to R4.2 billion, and service revenue declined 8%, to R4.1 billion in the quarter. Data revenue, however, grew by 2.2% supported by an increase of 810 000 active data customers, up to 13.8 million.
"Although the international operations have turned the corner, currency volatility is still negatively impacting translation of these results," says Joosub.
The quarterly results show a better performance in Tanzania and sustained growth in Mozambique and Lesotho. However, in the DRC economic weakness and the decoupling of the Congolese Franc from the US dollar continues to impact consumer spending.
Joosub says the expansion of the 'Just 4 You' personalised offers platform into all of its operations is expected to contribute to the operational momentum outside of SA.
"Following the shareholder approval of the acquisition of a stake in Safaricom on 18 July, this will further boost contribution outside of SA," adds Joosub.
Vodacom plans to acquire a 34.94% strategic stake in Safaricom from Vodafone, by issuing 226.8 million new Vodacom ordinary shares. As a result, the interest held by Vodafone in the Vodacom group will increase from 65% to 69.6%.
The group also set a date for its planned listing on the Dar es Salaam Stock Exchange (DSE) in Tanzania, saying it will take place on Tuesday, 15 August. After a number of delays, Vodacom Tanzania was due to list on the DSE during June 2017 but this month it again extended the offer period by another three weeks to allow participation by international investors.