Liquid Telecoms SA affirms enterprise focus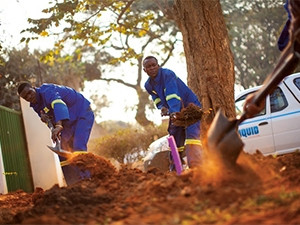 Data, voice and Internet Protocol (IP) provider, Liquid Telecom, has no plans at the moment to roll out a fibre-to-the-home (FTTH) network for its South African operations.
Liquid, which has already deployed FTTH in African nations such as Zimbabwe, Zambia and Kenya, reaffirmed its South African business will focus on national and metro fibre rollout.
The local strategy was outlined at AfricaCom 2015 this week.
Willem Marais, CEO of Liquid South Africa, says its biggest focus for the country's market is wholesale and the enterprise business.
"In South Africa, for the moment, we are not targeting FTTH. It's very opportunistic. We will look at partnership models but most of our focus and capital investments are on national and metro fibre networks."
Marais notes Liquid hasn't been that focused on revenue-generating projects for the South African market, but on building core transmission and terrestrial fibre networks.
"We first target the mobile network operators and that's assisting them in terms of transmission networking, mobile backhaul, second tier operators, service providers and enterprise customers," notes Marais.
For the next financial year, Liquid says it will make an immediate investment of $17.5 million in laying new fibre in South Africa's northern provinces.
According to Liquid Telecom CEO Nic Rudnick, the company has always used South Africa as a transit to get up to the northern network, but that has changed this year. "We've got some meaningful build currently under way.
"Over the last nine months, we've been primarily busy with the access network, putting fibre down every street in the cities we're are in in these countries as well as FTTH.
"We launched 100Mbps FTTH and now we have customers are in Zimbabwe, Zambia, Kenya and Kenya. We will continue to roll out the network in Uganda and Democratic Republic of Congo," states Rudnick.