M-FiTEC lists on JSE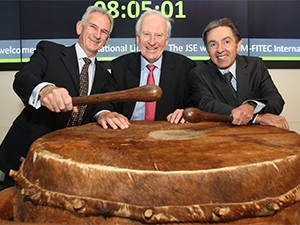 The Johannesburg Stock Exchange's (JSE's) newest listing, M-FiTEC, began trading this morning.
The financial technology (FinTech) investment holding company today listed as a special purpose acquisition company (SPAC) on the JSE's AltX board.
A SPAC is a publicly traded acquisition firm that uses the money raised to finance the acquisitions of operating companies within a 24-month period. M-FiTEC is the fifth SPAC to list on the JSE but the first in FinTech.
M-FiTEC was formed and incorporated in Johannesburg on 19 August 2015. The special purpose company plans to pursue viable investment opportunities in the FinTech sector, principally in developing market geographies.
"We are delighted to list on the Johannesburg Stock Exchange and have accomplished a great deal in a very short time, from conception to listing. We now have the platform for executing acquisitions on a variety of opportunities and have eight potential targets for further development," according to CEO Charles Rowlinson.
Rowlinson, who is former CEO and chairman of Educor and co-founder of Wizzit Payments, leads the company along with CIO Greg Voigt, who was a founding partner of Adlevo Capital. CFO Kevin Boyers is co-founder and CEO of Chartall Business College, as well as co-founder of Wizzit Payments.
Dimension Data co-founder Richard Came will chair the company's board and is joined by non-executive director Robin Frew, who was a co-founding shareholder of Mix Telematics. Vantage Capital's co-founders Chris Lister-James, Colin Rezek and Andrew Springate also join the board, along with former RMB CIO Sabir Munshi.
The board believes Africa presents important and valuable opportunities in the FinTech sector, and has begun to explore investment opportunities in this regard with the aim of establishing a foothold in the industry.
"The dramatic convergence of digital interaction with financial transactions is disrupting traditional financial services firms and creating new market opportunities for emergent financial services firms.
"The rapid pace of technological change is forcing traditional financial institutions globally to invest in innovation and to rethink their business models in order to exploit this emerging financial technology," according to M-FiTEC's prelisting statement.
The company raised over R76 million ahead of the listing via private placement and just over 7.6 million shares were subscribed for at a price of R10 per share. The directors of the company hold 23.63% of the issued share capital of M-FiTEC.
Voigt says M-FiTEC intends to pursue a 'buy and build' plan, either with immediate control or with a path to obtaining a controlling stake over time.
"Our aims are to achieve revenue targets of a billion rand within two years and a billion dollars within 10 years, while keeping with the company's intended strategy of obtaining a minimum EBITDA margin target of 10% on revenue."
JSE director of capital markets, Donna Oosthuyse, welcomed the company to the bourse, saying the JSE is particularly excited to welcome M-FiTEC as the first SPAC to focus on FinTech.
"As a competitive and entrepreneurial company, M-FiTEC promises to become a significant disruptor within the traditional financial services industry by creating new opportunities for growth for emerging financial services firms and improving access for consumers locally and in the rest of Africa."
Acquisition pipeline
"M-FiTEC understands the FinTech space," according to Rowlinson.
FinTech companies are technology companies that provide services and solutions to the traditional and emergent financial services industry and address a vast array of different segments.
"We understand that FinTech companies work in areas that in most cases deal with people's money and so face ongoing scrutiny from financial institutions, financial authorities and strict regulations that need to be understood and complied with.
"M-FiTEC has a strong underlying pursuit to change the world to make it a better place and drive the need to bring financial services to all, making their lives easier," says Rowlinson.
"Traditional banking business models did not work for all; however, the digital age and growth of the mobile phone has changed this and brings an exciting FinTech industry with new innovative, cost-effective workable business models."
M-FiTEC says it will concentrate its acquisition efforts in three segments: payments, platforms and software and services.
The company has already identified its first target acquisitions "comprising three potential anchor investments, two connected party opportunities and three bolt-on acquisitions".
The board aims to ensure the aggregated businesses can achieve greater performance as a part of the M-FiTEC group than they would be able to achieve on their own.
"M-FiTEC further understands entrepreneurs and software developers and the need to capture these individuals' innovation, sense of freedom and lack of traditional corporate red-tape and keep them motivated," says Rowlinson.
Acquisitions will initially be spread across Sub-Saharan Africa with priority areas being Southern Africa, West Africa and East Africa. In time, the opportunity set will be extended to other developing markets where the industry dynamics are similar.