Huawei P8 phones get safety app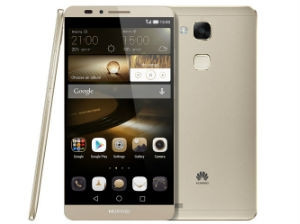 Huawei's panic button app will be adapted for the mobile phone company's P8 and P8 lite devices, according to Charlene Munilall, GM of Huawei Consumer Group South Africa.
The announcement was made at AfricaCom 2015 this week.
Created to serve as a panic button that can be activated by the fingerprint sensor on mobile devices like the Huawei Mate 7, the Rapid Response app will also work on a range of Huawei devices.
Using location-based services, including near-field communication technology, Rapid Response alerts emergency services providers such as ER24, a contracted security company or five personal contacts that an emergency has occurred.
According to Munilall, although the app primarily uses the fingerprint, there are other methods to silently trigger an alarm.
"We're in the process of developing the app. We want all our devices to have a way of activating a security function. We've been rapidly developing the app and we think it will be available before the end of the year," she said.
"The fingerprint security on other devices is to just unlock your phone, but ours will serve for security identification as well as be a silent alert to ER24," says Munilall.
Commenting on the app, creator Marlize Holtzhausen said dispatching emergency assistance in a timely manner is critical to ensuring the safety of people in distress, as well as minimising trauma to victims and their families.
"Low levels of service delivery in emergency services and the high crime affecting families are two of the biggest challenges in South Africa, which will now be seen in a different light as assistance is immediately at hand," she said.
The app will be available on Google Play and can be downloaded on a Huawei device, and has a subsidised rate for a lifetime subscription model.