NokusaEI introduces new certified ECM courses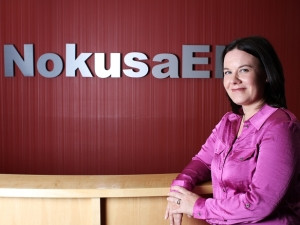 Managing enterprise content, such as documents, records, scanned images, e-mail and Web content, can be a daunting task. Among other responsibilities, employees responsible for this information must understand which data must be kept, how long to keep it, and the various Acts and regulations affecting the management of their information assets.
Nokusa Engineering Informatics (NokusaEI) is introducing a new series of AIIM training programmes in South Africa. All AIIM programmes are vendor-neutral and are based on global best practice standards in the management of information.
"Due to its high standing in the ECM (enterprise content management) and IM (information management) market, NokusaEI partnered with AIIM in 2006 to offer its training courses in South Africa," says Lidia Basson, NokusaEI training manager. "Our trainers and facilitators are experts in the IM world and guide students through the coursework in order to share knowledge to give them the optimal chance of passing AIIM's exams and obtaining their certifications."
NokusaEI has recently invested in acquiring skills in the newly offered AIIM training programmes and will start presenting these in South Africa from October 2012.
AIIM is a non-profit organisation that was founded in 1943 and is focused on helping users to understand the challenges associated with managing documents, content, records and business processes. It has members in 146 countries and is recognised as a neutral and unbiased leader in the ECM world.
Basson adds that the AIIM Master Class programmes provide detailed coverage of ECM and IM for people working both in the public and private sectors. Students will be able to consolidate their current position and standing, as well as prepare for future career development in a more senior role in the management and development of their organisation's information management strategy. They will also discover best practice content solutions used in global companies to deal with real-world challenges.
"The AIIM Master Classes are designed for business managers, IT managers, compliance officers, risk managers and other records management professionals, as well as for solution providers, sales consultants, project managers and technical staff," states Basson.
The courses in the AIIM programme include:
Enterprise Content Management (ECM): (Updated in September 2012) Learn how to take control of information assets through enterprise strategies and technologies to capture, manage, store, preserve and deliver organisational content.
Electronic Records Management (ERM): Learn how to take control of electronic records, including methodologies and technologies for managing them, as well as the development of metadata models, classification schemes and access control.
Business Process Management (BPM): Learn how to improve your business processes, including streamlining and re-engineering skills, requirements gathering and analysis, application integration and process design and modelling.
SharePoint for ECM: This module includes enterprise strategies and technologies for managing content using SharePoint, as well as technologies and solutions for DM, imaging, ERM, WCM workflow and collaboration. It also deals with corporate instruments like taxonomies, metadata models and security models.
New courses in the programme include:
Social Media Governance: (Practitioner level only) Learn how to take control of social business assets, including how to develop social media policies and what to include, how to address specific commercial social media services including Facebook, Twitter and LinkedIn, how to conduct a social business assessment as well as social media governance framework and responsibilities.
SharePoint for Collaboration: SharePoint 2010 is a collaboration platform. This module focuses on the importance of collaboration and the value of SharePoint 2010, specific collaborative capabilities offered through SharePoint and how to customise search and visualise data in SharePoint.
Taxonomy and Metadata: (Practitioner level only) Learn how to optimise navigation, information discovery and findability. This includes key concepts and terminology, taxonomy structure and usability, framing a business case, collecting metadata and working with search.
In addition, AIIM offers a Certified Information Professional (CIP) certification, which is designed to enhance and promote the profession of information management by providing the premier credential in the industry. CIP accomplishes this mission by establishing standards, creating a fair examination process, granting certification to information professionals who meet its standards, and communicating the value of the credential to employers and clients. There is no compulsory training involved, but AIIM does have educational videos on its Web site that can help with exam preparation. NokusaEI is proud to advise that Bennie Kotze, the ECM consulting general manager, was the first CIP in southern Africa.
Efficient information management processes help companies to optimise business processes that produce content. This, along with document-centric process automation, improves the creation, review and approval of various content-based products. It also assists in reducing corporate risk because content management supports compliance with regulatory mandates, playing an increasingly important role in corporate governance compliance in multiple industries.
"The management of information is an integral part of every business and it will take time, skill and dedication to get it right. NokusaEI believes that the AIIM training programmes will assist companies in getting the ball rolling and allow for the development of a framework to ensure success in implementation. After all, information is an asset that should be managed!" concludes Basson.