Google joins the personal conversation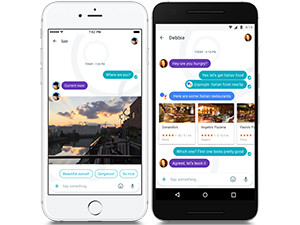 In case there were not enough instant messaging apps clouding smartphone screens, Alphabet's Google has released its own.
Google Allo is a smart messaging app for Android and iOS mobile devices, available globally today.
It differentiates itself from other messaging apps by allowing users to chat to Google Assistant within conversations. This means conversations in the app will be littered with extra information curated by the artificially intelligent personal assistant.
For example, typing @google and following it with a question like: "What is the weather like tomorrow?" or "What books did Roald Dahl write?" will get Google Assistant springing into action to provide both people within the conversation on Allo the answers to the question.
This service also works in group chats.
The company says in a statement it can provide information on news, incoming flight status information, local restaurants, among a host of other things.
The point of integrating Google Assistant into chat, says Google, is to allow users to stay within chat when they want to look up some information, instead of leaving to use a browser.
The more it is used, the better it becomes, by saving preferences such as always showing the weather in Celsius.
There's more
The app works off users' cellphone numbers.
It features Smart Reply, which lets users respond to messages without typing a word. Suggestions for responses will appear based on what is being said in the conversation, including multimedia. For example, if a picture of a puppy is sent, Smart Reply may suggest replying with 'Cute dog'.
Users are able to edit and draw on pictures before sending them. And Allo has a range of custom-designed stickers and emoji available to adorn conversations.
All chats are encrypted, and it offers an incognito mode, which provides end-to-end encryption, discreet notifications and message expiration.
Allo is available globally in app stores from today.
In August, the company's video-calling app, Google Duo, went live. It rivals Apple's FaceTime and Microsoft's Skype.
The mobile-only video calling app has been optimised by Google to connect faster than other video apps, and to ensure the conversation stays in sync. Call quality adjusts to changing network conditions.
Allo and Duo were first announced at the Google developer conference, in May.