Innovation thrives in WCape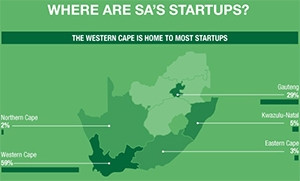 New research shows only 17% of South African tech start-ups are profitable.
The survey, conducted by Ventureburn, asked 334 start-up founders a set of 42 questions, between April and May, basing the results on the 197 start-ups that completed the survey and were still in the sample after the data was cleaned up.
The survey's key findings included that only 3% of companies that launch made it to venture capital investment stages. "Examples of successful South African start-ups include WooThemes, iKubu, SnapScan, and LifeQ," says Ventureburn senior reporter Stuart Thomas.
Insights from the survey include:
* The leading cause for job attrition at start-ups was "remuneration" (26%), followed by not liking "start-up culture" (14%) and "too much pressure" (11%).
* Only 2% of start-ups offer medical aid to employees and none offer a pension fund.
* Just 17% of start-ups surveyed said they were profitable.
* 34% of start-ups say their funding will run out within the next three months.
* Only 8% of start-up companies remunerate employees via shares.
* 59% of the start-ups are based in the Western Cape, followed by 29% in Gauteng.
* The biggest challenge facing start-ups is access to funds (43%), followed by "lack of technical staff" (12%).
* Most start-ups are self-funded (56%) or funded by family and friends (15%). No start-ups surveyed were funded via crowdfunding.
* 49% of start-ups are run from homes and garages, with 23% in rented offices.
* The top industries for SA's tech start-ups are computer and software services, media, advertising and marketing, and consumer services.
* The smallest industries for SA's tech start-ups are telecommunications, gaming, real estate and agriculture.
* 57% of start-ups surveyed had more than one founder.