Sanral to meet NPA over 'flawed' e-toll data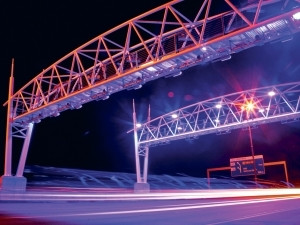 The South African National Roads Agency (Sanral) vehemently denies there is anything wrong with data collected by the e-toll system. This is despite a court - hearing a culpable homicide inquest - this week finding data collected by e-toll gantries to be unusable.
"The data is accurate; there is nothing wrong with it," says Sanral spokesperson Vusi Mona.
However, prosecutors in the inquest into an accident between a car driven by president Jacob Zuma's son - Duduzane - and a minibus taxi, at the beginning of the year, reportedly found data captured by gantry-mounted e-toll cameras was unreliable.
The accident, in which a woman died, occurred at 10pm on 31 January, near the Grayston off-ramp, in Sandton. Yet, according to media reports, prosecutors found the data collected from e-toll cameras showed both vehicles were captured as travelling through several gantries, hours after the accident occurred - at a time when neither vehicle was driveable.
Yet, Sanral says the fault lies with the prosecuting team. "The prosecutors must have interpreted the data incorrectly. They should have contacted us if they were having problems with the data," says Mona.
He adds Sanral would meet with the National Prosecuting Authority (NPA) to discuss the issue. "I can't say when this meeting will take place. The NPA approached us for the meeting."
Puzzled
Meanwhile, e-toll opponents have rejected Sanral's explanation. "I am somewhat puzzled at Sanral's response to this matter and find it difficult to understand how computer-generated date and time stamps even need to be 'interpreted', as has been claimed in Sanral's response," says Justice Project SA chairperson Howard Dembovsky.
"It is a matter of court record that the dates and times presented showed gantry passes that allegedly occurred at times after the crash had occurred, when the vehicles could not possibly have been on the freeway."
Dembovsky argues if, when furnishing the information to the court, Sanral felt there was a need to inform the public prosecutor "how to 'interpret' what is in black and white, then surely it should have done so at the time?"
"A court of law, unlike adverts and public statements, has to rely on facts and it would appear that some people simply don't want to accept this, despite what history should have taught them by now."
'What else is wrong?'
The Opposition to Urban Tolling Alliance (Outa) notes with concern that the state said the information subpoenaed from Sanral, relating to vehicle passage under gantries, proved to be "inconsistent and unreliable", and was, therefore, discarded.
"The e-toll system is supposed to be world-class technology that ought to provide accurate and indisputably factual data that enables judicial decisions to be made that do not have to rely on the subjective perceptions of parties seeking justice, especially after a tragic incident such as this," says Outa.
"It begs the question: what else could be wrong with the information emanating from the e-toll system?" says Outa spokesperson John Clarke. "As it is, Outa has received thousands of complaints about incorrect invoices sent to incorrect people, linked to incorrect vehicles."
Clarke adds Outa is calling on the Parliamentary Portfolio Committee on Transport to summon Sanral CEO Nazir Alli to explain how so much money could have been spent on a hi-tech system that is flawed.
"We also believe that, no matter how much Sanral and their economists try to justify the e-toll scheme to be equitable and economically sound, there is now sufficient evidence that the e-toll scheme in Gauteng has failed dismally as a revenue collection mechanism for road infrastructure funding. The time has come to make a serious and beneficial decision for all parties concerned by scrapping the system."