Zazoo expands business to India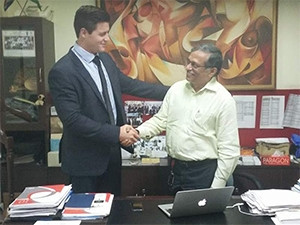 Provider of payment solutions and transaction processing services, Zazoo, has increased its global footprint by partnering with India's Oxigen Services.
The partnership will see the South African company integrate its Mobile Virtual Card (MVC) technology to power Visa prepaid into Oxigen Wallet in association with RBL Bank.
"Oxigen is a leader in promoting financial inclusion for the masses of India, and our technology will enable them to penetrate the market further by providing interoperability to their current semi-closed loop wallet," says Philip Belamant, MD of Zazoo.
"For the first time ever, Oxigen users will be able to transact anywhere Visa is accepted. These spending locations include social networks and merchants like Amazon, FlipKart, Snapdeal and Zomato," says Belamant.
Zazoo says the Oxigen Wallet will use its MVC technology to power the Visa prepaid card securely and off-line for card-not-present transactions, such as e-commerce or m-commerce purchases. The MVC technology runs as an application on any mobile phone, transforming it into a cashless, secure and convenient electronic payment device.
Commenting on the partnership, Ankur Saxena, director and chief mentor of Oxigen Wallet, says: "The collaboration between Oxigen, Zazoo and Visa has made it possible to give potentially one billion mobile customers in India access to instant electronic payments through the Oxigen Wallet mobile app."
"...This is the first time ever in India that a mobile wallet user, banked or unbanked, will be able to make transactions on all e-commerce/payment sites where Visa is accepted," adds Pramod Saxena, chairman and MD of Oxigen Services India.
Oxigen is one of India's largest payment solutions providers, facilitating recharges, money transfers, bill payments as well as other payments. Zazoo's MVC technology already enables mobile payment solutions for Uber South Africa, Microsoft, Funifi in the UK, and BitX.