Emerge Queue enhances traditional banking for South African banks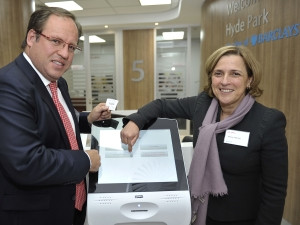 The South African banking industry has been on the forefront of digital advances in the field of customer experience for many years. First National Bank's level of digital innovation has recently attracted international attention, with the bank earning the title of Most Innovative Bank in the World at The Financial Global Banking Innovation Awards in October 2012.
In today's fast-paced world, the classic retail experience has not been forgotten, and banks are giving equal attention to ensuring the highest level of customer experience on both spectrums of service channel delivery.
"We believe personal interaction and support is very important to consumers at a time when banks are moving more and more online, making their services faceless and impersonal," Capitec Bank CEO Riaan Stassen stated last year, after rolling out the Qmatic Customer Flow Management (CFM) solution nationwide.
Speaking at the unveiling of the new Absa branch, Group Chief Executive, Maria Ramos, said the bank had chosen Hyde Park to showcase what it believes is a "game-changing retail experience". The Hyde Park branch follows the model pioneered by the Absa Clearwater Mall branch. She added that the branch represents the "new face of traditional banking".
"We are proud to complement our digital offering with the Hyde Park branch that simplifies customers' relationships with the bank and makes banking an easier and more enjoyable experience.
"It is aimed at ensuring an enhanced customer experience and supported by multi-skilled staff, technological improvements, innovative products and streamlined processes," Ramos added.
The unveiling included the Emerge Queue Qmatic CFM solution that utilises a Client Service Champion and ticketing system on arrival. "In essence, this allows the bank's clients to relax in a lobby-like atmosphere until their ticket is called out," says Eugene Swanepoel, Managing Director of Emerge Queue.
According to Absa, its new modern banking branch will mean the end of long queues, even during traditionally busy periods. The bank also hopes to provide all the services a customer may need at a single counter, sparing them having to queue more than once. The Quick Service Kiosks allow customers to perform complex banking activities without the need to queue.
Barclays Africa and Absa's Head of Personal and Business Banking, Craig Bond, says the Hyde Park branch is a blueprint for its branches across the country and eventually across the African continent through its partnership with parent Barclays.
"The key element of the Hyde Park branch is that everything is done without any paper in the branch," Bond explained. He added that by the end of this year, most of the major shopping centres in SA will have Absa branches that have the same look and feel.
"The nature of banking is changing for the better. In partnership with Emerge Queue and Qmatic, branches are looking for ways to reset expectations with a total focus on the customer experience," Swanepoel concludes.