Samsung rules SA's smartphone market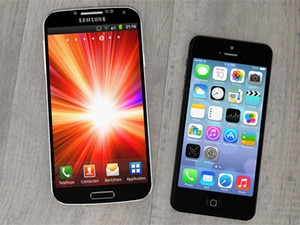 Samsung tops the list of SA's most popular smartphone; the South Korean brand is followed by Apple, which is closely competing with Huawei for second place.
This is according to data released by mobile phone comparison Web site, Phonefinder. The report found that out of 150 000 South Africans who compare and sign up for phone contracts on the site, 21.73% of locals choose the South Korean brand for contracts.
Apple, sitting on 14 % is closely followed by Huawei with 13% - the Chinese brand has been labelled the fastest-growing mobile brand globally. With Sony (1.3%) and BlackBerry (0.47%) making up the fourth and fifth place.
"Huawei is to overtake Apple as the most sought after cellphone device on Phonefinder in South Africa," according to the report.
The sites' data further revealed although Samsung makes up a large piece of the pie there is a demand per product range which is fairly evenly split within different smartphone models, whereas the other brands have very definite product winners.
"For example the Huawei Ascend P8 Lite makes up 68% of all Huawei requests where the highest requested Samsung device (the Samsung Galaxy J1 Ace) makes up 20% of Samsung's requests.
"The most notable and surprising phone is still the Apple iPhone 4s, which has been in the top 10 for two months now and it is tantamount to a desirable brand," says the report.
According to a Trendforce report, although Samsung had a tough 2015, it managed to remain in top positon. Besides missing its annual shipment targets for Galaxy S6 and Note 5, the top global vendor also saw its global market share fall to 25%, down from 28% in 2014, says the report.
The research further found Apple retained its position as the number two global vendor in 2015 with 227 million iPhones shipped, translating to an annual growth of 17.7% and a 17.5% worldwide market share.
Trendforce says Huawei replaced its compatriot rival Lenovo as the world's third-largest smartphone vendor, the Chinese smartphone shipments broke the 100 million unit mark for the first time in 2015, arriving at 108 million units. With a huge annual shipment growth of about 49%, The vendor's shipment target for 2016 is set at 130 million units.
Xiaomi, in fourth place was unable to make significant headways in foreign markets during 2015, Lenovo, at fifth position, saw its smartphone shipments surged in 2015, according to Trendforce.
Price factor
Phonefinder says price and data play a crucial role in the type of smartphone contract selected by their customers.
"It has become increasingly important to find a cellphone contract that meets all your needs, and that includes price not to mention data and voice.
"It seems that there is a lot of demand for Apple phones, but when it comes down to it price dictates which Apple phone can be afforded," says the report.
According to a report compiled by IDC, worldwide smartphone markets will see the first single-digit growth year on record as shipment volumes continue to slow across many markets.
Anthony Scarsella, research manager with IDC's Mobile Phones team, says vendors will look to push device financing and trade-in options across many of the developed markets as growth in these markets is expected to primarily come from replacement purchases and second-hand devices.
"Consumers will be enticed by both affordable high-value handsets as well as various financing options on pricier models," says Scarsella.
IDC says Android's market share is expected to grow slightly from 81% in 2015 to 82% over the next two years, while iOS is expected to remain around 14-15% annually, with clear spikes around product launches.