Byte Orbit introduces recruitment app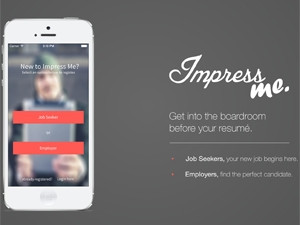 Byte Orbit, a software development company, has introduced Impress Me, a video-based mobile application which, it claims, will change the traditional way of recruitment.
According to Martin Ras, chief operations officer at Byte Orbit, the app gives the job seeker an opportunity to visually impress the prospective employer by submitting a unique 60-second video selfie.
To apply for a position using the app, a job seeker must first register on the mobile application. Once registered, they can take a video selfie with their smartphones. Applicants can retake the video as many times as they deem necessary and then only submit the video once they are happy with it, says Ras.
"The idea is not for the job seekers to convey their resume in 60 seconds, but to give an introduction about themselves and why they would be best-suited for the advertised position. Ultimately, job seekers needs to prepare themselves for possibly being invited to an interview, therefore the app is a good opportunity for them to practise and perfect their interview skills," says Ras.
Employers can register through the Web or mobile platform and post up to five positions at a time, free of charge.
When a job seeker applies for a position, the employer receives a push notification on their mobile device along with an e-mail to advise that a new applicant has come through. Logging in from the Web or mobile, they can view the 60-second video and contact the job seeker directly.
With any recruitment process, the employer wants to understand if the candidate's skill-set is suited for the position and whether the candidate will fit into the company culture, says Ras.
He points out that, although a resume conveys most of the information that is required prior to an interview, it fails to convey the personality of the job seeker.
Therefore, if the employer can have a glimpse of the prospective job seeker and their personality before inviting them for an interview, it will streamline the process of recruitment, he states.
Also, this will save both the employer and job seeker time, by only interviewing candidates that are suited for the position.
It is available to download free on Apple and Android platforms and the Web site at https://impressmeapp.com/