New app helps plan your route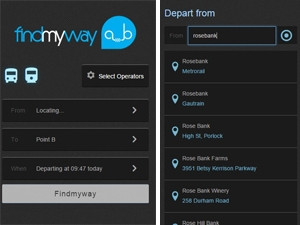 The latest version of the urban transportation and journey planner app, Findmyway, was released in Pretoria last week.
This update allows commuters to view all available routes and public transport options, and plan their journey from point-to-point.
The app was developed by SA-based start-up WhereIsMyTransport. Co-founder Devin de Vries explains: "Findmyway draws on live data from relevant transport operators in the city. Commuters are able to make informed choices, and smaller, lesser-known operators are better able to enter the system."
The app allows users to choose between different routes based on prices or travel time, locate themselves on a map, and search for nearby amenities.
"This experience is in sharp contrast to the typical South African commute, which has been based on out-of-date paper schedules and a confusing labyrinth of routes that either frustrate, or leave commuters stranded," says De Vries.
The app also allows government to make announcements about road closures or conditions, and similarly commuters are able to inform government about delays or service delivery.
"Our goal is to make transport a frictionless process available to all types of users, whether you ride the bus every day, or are a tourist visiting for the first time."
The app is currently in beta testing in Cape Town, Johannesburg, Nelson Mandela Bay, Pretoria, Durban and Buffalo City.