Smartphone curves pack appeal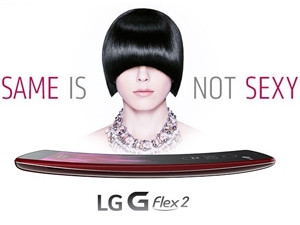 While some may argue curved phones are not much more than a short-lived fad, the focus this development has received from some of the world's top smartphone brands suggests there may be more to it.
Last week, BlackBerry dropped a small bombshell at Mobile World Congress (MWC) when it briefly unveiled a new curved handset design, flash previewing an "affordable" phone dubbed the BlackBerry Leap. The Canadian smartphone maker, which at one stage held the hearts of SA's smartphone consumers, is shifting its focus from phones to the enterprise market and software.
Next month, on 7 April to be exact, LG's second attempt at a curved handset - the G Flex 2 - will be available in SA, at a recommended retail price of R10 499.
On a slightly different path, both Apple and Samsung - the latter introduced the curved display and body with the Samsung Galaxy Round in October 2013 - may soon be competing on form factor innovation.
Samsung unveiled the Samsung Galaxy S6 Edge - a new flagship featuring a curved screen (not a curved body) - last week, just ahead of MWC. Arch rival Apple is also believed to be exploring curved displays.
Patently Apple reports that Apple was recently granted a patent for future devices with curve side displays. The patent covers Apple's invention relating to flexible displays and, more particularly, to electronic devices with flexible displays.
MD of World Wide Worx Arthur Goldstuck points out LG's design is all about the structure of the phone, while the S6 Edge is about functionality.
Curve appeal
Goldstuck says there is a definite appeal to a phone with a curved body, but the market still has to be convinced that it is more than a mere novelty.
BMI-TechKnowledge director Brian Neilson says while he still sees curved screens as being a bit gimmicky, it is too early to rule out the possibility of the form factor becoming the new norm. "Innovative applications that exploit such user interface features can make such features become de-facto."
Neilson notes when BlackBerry-styled keyboards were the flavour of the day, some people argued that iPhone-styled touch screens would not dominate, but rather a mix would prevail. "This has been proven wrong - touch screens clearly dominate."
Goldstuck says the hardware of a phone is more important than ever before, as it is a stronger driver of uptake than what version of an operating system is in use. "Most popular apps are now available on most phones, so the software is no longer as important a differentiator as when, say, Instagram was only available on iPhones or when BlackBerry had the most user-friendly instant messenger."
Tech enthusiast and editor of techgirl.co.za Sam Wright believes the market it going to be seeing more curved phones in future. "For the most part [in my opinion], hardware plays a much bigger role than software most of the time. An Android OS is the same whether you're playing on a Sony or a Samsung. The consumer is far more concerned with the battery life, the camera capabilities and how the phone looks."
Practically speaking
LG's first curved offering, introduced in January last year, received a lukewarm reception, largely due to its size, sub-standard resolution and similarity to the LG G2 - none of which justified the R10 000 price tag.
In introducing its latest flexi-phone to the local market, LG Electronics SA concedes the curve of the G Flex was accused of being a gimmick. The company goes on to ensure its first try's successor "brings sexy - and practicality - back".
It positions the phone as the world's first "dynamically curved smartphone", which provides a better grip that enables the microphone to be closer to the user's mouth. "The arch also allows the phone to fit better in your pocket."
BMI-T analyst Clinton Jacobs says gimmickry aside, the curved form factor may well be a good innovation, ergonomically speaking.
Wright says the industry is stuck in a bit of a smartphone innovation conundrum. "We want more from our phones, but the manufacturers can't really do much more. Our phones are being used primarily to consume media so we want better screens, better images and higher resolutions, but to give us a better picture quality and more usability we've ended up with a generation of phablets.
"By curving the screen, smartphone manufacturers can give us a far more immersive picture and also reduce things like screen glare."
Goldstuck says curved handsets have one major drawback, in that they do not lie flat on a surface for one-handed typing. On the other hand, he says, curved is a highly practical shape for one-handed use while holding it in a hand, as well as for traditional purposes, like using it as a phone. "A curved phone is a significant differentiating factor. However, it remains to be seen whether it is a significant purchasing factor."