Gamification proposed for CT's water woes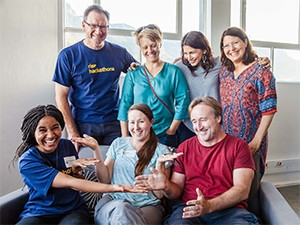 Rise, Barclays Africa's innovation hub in Cape Town, recently hosted a water hackathon to help harness the power of technology, innovation and collaboration in finding solutions to the water crisis in SA's Western Cape province.
Two consecutive years of drought have severely reduced stream flows into the dams of the Western Cape Water Supply Scheme, according to the City of Cape Town, which says the dams are likely to reach "extremely low levels" by the onset of the 2017 winter.
As part of efforts to find solutions, Rise hosted a hackathon in conjunction with Woolworths, convening industry experts, policy-makers, conservationists, students, community members, scientists and engineers.
Participants in the hackathon event were challenged to generate solutions to improve agricultural, industrial and residential water consumption.
The winning idea, proposed by Water Surge, is to create an online and mobile public campaign that uses gamification and integrated social media to encourage behaviour shifts.
The idea of the app is to inspire water saving action by using community spirit and some elements of gamification. In the app, community members will add actions to a large tank.
As more and more people add actions, the tank fills up - providing a feeling of progress akin to progressing through levels in a game. Also, when users add actions, an animation will act as a small recognition and reward - another element of gamification.
The app can also be used for a more large-scale game or "Surge" where a group of people tries to reach a target in a set amount of time. The team explains that, for example, the game could be thought of as Cape Town versus the drought.
"This is an innovation that could really help drive water-saving behaviour change across Cape Town, and could potentially be implemented in a short timeframe," says City of Cape Town water and energy efficiency strategist, Sarah Rushmere.
"We are using the Rise co-creation platform to help bring people from various organisations and communities closer so that we can collectively tackle our biggest societal challenges and drive mass implementation of solutions," says Yasaman Hadjibashi, chief creation officer at Barclays Africa Group.
"At Rise, we strongly believe the most powerful way of finding solutions is to bring together the most diverse people, who would not ordinarily cross paths," Hadjibashi notes.
Justin Smith, head of sustainability at Woolworths, says: "At Woolworths, water is a critical input to our products, whether it is food or clothing. The efficient use of water is of utmost importance to enable the business to do what it does. I believe there is no one entity than can single-handedly come up with a solution to the water crisis we face, but that it is rather through collaborative efforts by stakeholders from all sectors that we'll find workable solutions."