Kustom first in Cape Town with Xerox Versant 80 digital colour press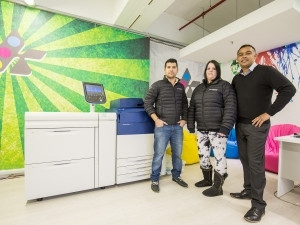 Kustom Digital Print, a new creative printing, production and design company based at the Upper East Side complex in Woodstock, has unveiled the first Xerox Versant 80 digital colour press in Cape Town to support a steady stream of high-end corporate and hospitality business.
Supplied by Xerox reseller Cape Office Machines and Xerox's largest distributor in the world, Bytes Document Solutions, the Versant 80 is the flagship machine the company wanted in order to win and maintain its target clientele, while expanding the business to support a growing number of smaller and ad hoc clients.
"Kustom is a new concept by name and nature," says owner Idan Burstain, who founded Kustom alongside his brother Yoav. "The 'K' is a play on 'Key', which is how we describe everything we do, from customer service and professional creative design to the highest quality finishing and products available anywhere in the country at this price point."
For 10 years as owners and partners of Liquid Concepts - a unique company that helps create, outfit, train and launch some of the leading food and beverage brands in the country, the Burstains relied on high-quality, colour-accurate printing for their own clients. They believed in the ethos of family-run businesses and adopted the same ethics of trust, reliability and service delivery.
"The industry we work in has a 'quality without compromise' mantra that's simply non-negotiable," says Burstain. "I've lived it for more than a decade as a client myself, and Kustom was partly born of the need to find a level of uncompromising service for Liquid Concepts that, frankly, I couldn't find anywhere else.
The Burstain brothers sought out and hired Abbi de Villiers, who personally worked on numerous Liquid Concepts campaigns over the past few years, as lead designer and operations manager. (Although, as Burstain tells it: "We don't have positions in this company; we live the business regardless of what we're asked to do each day!")
"This level of service starts and ends with the people around you, and we've found some of the most talented and creative people in the industry to help us. But it also lives and dies by the equipment you use, which is why we wouldn't settle for anything less than the best. We didn't just want the Ferrari of digital colour printing - which is what the Versant represents - we also wanted it first to show our clients that if they wanted the best, we always deliver."
The Xerox Versant 80 not only prints faster and on more media types (up to 80ppm on 350gsm media), it does so at a higher level of quality than was previously possible for a digital press. By combining 2 400 x 2 400 dpi imaging resolution with up to 1 200 x 1 200 x10-bit rendering resolution (four times more pixels than the digital press standard), the Versant 80 delivers exceptionally fine details in graphic fills, sweeps, line art and text. Moreover, it does so without any compromise on speed or media types.
"Perception and reputation are vitally important in the creative printing industry," says Cape Office Machines director Stuart Daniels.
"It's not enough just to produce great work; you have to do it repeatedly and continually demonstrate that you're able to deliver against ever-shrinking costs and deadlines to stay front-of-mind for the biggest and best clients," he says.
"Aside from attitude, commitment and a passion for what you do, you need some serious firepower to make it happen, so for pioneers like Kustom - with its elite clients - there's nothing that can touch the Versant in terms of power at this price point."
Today, Kustom is seeing more business walk through the door than the Burstains thought possible, purely from industry standards.
"Some of it probably has to do with the fresh smell coming from our new popcorn making machine," Burstain jokes. "Seriously, though, our clients are getting used to the idea that they can give us a project that would take them two weeks at their previous agency, and we can turn it around at lower cost and with better quality in two days. Where there's an envelope, we're going to push it."