'Green' ATMs for local banking market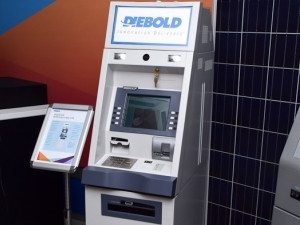 Power utility Eskom has been able to avert load-shedding for the past three months; however, the possibility of South Africa's electricity supply being shed still exists.
This is according to John Ennis, VP for Diebold's UK, Ireland and South Africa operations, who says there is interest from South African banks and other markets on the continent to deploy green ATMs.
According to Ennis, his company is in discussions with its South African banking customers to determine which ATMs will benefit from going green. Ennis, however, was reluctant to reveal the banks the company is in discussions with.
"With load-shedding still a foreseeable reality in South Africa, we will certainly see increased interest in ATM technology offering an alternative solution to the power challenge," he says.
Tri-power
Diebold, a provider of ATMs and ATM software, has unveiled a green automated teller machine. The ATM has a power management system that automatically switches between three possible power sources: solar power, alternating current grid, and an internal battery.
Originally designed and manufactured in India to meet the government's inclusion initiatives to expand banking services across country, the ATMs are also suitable for other parts of the world, says Diebold.
"It is tailored to enable deployment across a wide range of rural and urban locations previously out of reach, and at the same time provide a high level of convenience, enhanced security, availability and technology innovation," says Ennis.
The Diebold ATM can operate on as little as 70-watts of power, consuming up to 40% less energy than other models, claims the company. It is equipped with a smart power management system that continuously monitors the total power needed to operate and perform transactions.
It also automatically chooses which power source to draw from - either the internal battery or AC power grid - ensuring the unit does not exceed 100-watts of power usage.
Green machines
According to Ennis, the solar-powered ATM offers a solution for financial institutions to better serve people living in areas with inconsistent or limited power supply.
"Banks in South Africa are interested in such a solution and we are confident the Diebold 429 will answer their needs," he says.
"We have already deployed the Diebold 429 in Tanzania, Uganda, Rwanda, Kenya, India and Pakistan."
The banks need to look at their needs in terms of ATMs. While they might have solid infrastructure in urban areas, reaching out to their customers in rural areas might be more difficult, says Ennis.