Ad-blockers to eat $27bn of advertising pie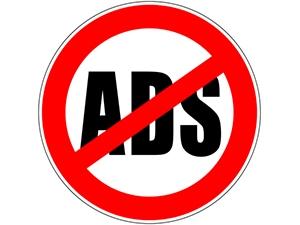 A new study by Juniper Research predicts the rising use of ad-blocking technology globally could account for a $27 billion loss in advertising revenue by 2020.
The report, Worldwide Digital Advertising: 2016-2020, shows this loss will account for almost 10% of the total digital advertising market. It also predicts developer activity will increase over the next five years, making ad-blockers more sophisticated and difficult to overcome.
Ad-blockers are technological methods for automatically removing or altering advertising content such as videos, images and text on a Web page.
"Adoption is being driven by consumer concerns over mobile data usage and privacy. They are also incentivised to adopt the technology in order to reduce page load times," says Juniper research author, Sam Barker.
The blockers increase privacy by removing the tracking and profiling systems of video advertising delivery platforms.
Ad-blockers everywhere
Ad-blocking software has been around for years. In recent years, use has grown rapidly on desktop computers, led by early adopters among tech-savvy young people, but until last year, was rare on mobile.
Last year, Apple enabled ad-blocking apps through its mobile operating system, iOS 9.
In March, Opera announced it was introducing a new version of its desktop computer browser, a move that makes reining in advertising a basic feature instead of an afterthought.
Opera also added ad-blocking features to its mobile app.
In February, multinational mobile operator Three introduced network-level ad-blocking across its UK and Italian branches. Juniper expects more operators to follow suit.
Brian Neilson, director at BMI-TechKnowledge, says: "There is a global trend towards using ad-blockers, which is negatively impacting the cookie-based ad placement industry. This includes a few giants and numerous niche players."
Hardest hit
The research found smaller publishers are most at risk from the rapid adoption of ad-blocking software as they often solely rely on revenue from advertising to continue operating.
"The 'hyperscaler' players like Google and Facebook will be relatively unfazed by this, as they are likely to gain from this trend, if anything. Publishers will find ways around this, but not entirely, so it is a case of mitigation of the trend rather than neutralising it completely," says Neilson.
Yaron Assabi, founder of Digital Solutions Group and chairman of the South African Mobile Marketing Association, said previously that while the ad-blocking trend is expected to see significant growth in other markets, it is unlikely it will see significant pick-up in Africa within the next five years.
"The reality is that in Africa - and even in SA - we are still behind the digital curve in many respects, where currently there is very little awareness of ad-blocking software among the broader consumer markets. And, at this stage, this is still in the favour of marketers and online or mobile publishers," says Assabi.
However, Mike Wronski, director at Digital Flow, believes ad-blocking poses a threat to mobile inventories in SA. His opinion of ad-blockers has not changed since ITWeb spoke to him last year.
"In the end, everybody loses as publishers can't create quality content due to lower revenues, and consumers stop getting the quality of content they expect."
Wronski explains advertisers have continuously pushed for larger reach at the expense of relevance, and publishers have pushed for larger revenues for the same content, resulting in a plethora of irrelevant advertising on the Internet.
"It's only natural for consumers to want to block these ads as it degrades the quality of their Web experience," he says.
Counter-action
There are a number of ways digital publishers are trying to push back against ad-blockers.
Some Web sites, like Forbes and Wired.com, are blocking their content completely from people who make use of ad-blockers. Once the ad-blocker is turned off, the content will reappear.
Other Web sites, like The Guardian, ask ad-blocker users to donate a small fee, like £1 a month, to continue using ad-blocking technology on the site.
Popular video-sharing site YouTube reportedly forces those who have ad-blocking software installed, to watch entire adverts - without the option to skip after a few seconds.