Laserfiche supports local schools in Johannesburg, South Africa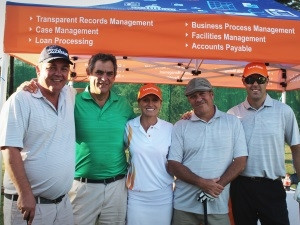 On Friday 6 May 2016, Laerskool Edleen hosted their annual golf day at the Kempton Park Golf Club. This year Laserfiche was their primary sponsor for the event, covering the costs to host the event as well as sponsoring the 9th tee with a R100 000 hole-in-one prize!
Since 1987, Laserfiche Enterprise Content Management software has been trusted by more than 35,000 organizations worldwide to manage, secure and share information. As a privately-held company based in California, Laserfiche develops solutions for capture, workflow, forms, e-signatures and case management that help organisations drive business value - and make timely, informed decisions.
The day was a great success and a networking opportunity for all, with CEOs, CIOs and the likes playing the course. Additional sponsors for the day were Noscotek - the exclusive distributor of Laserfiche products in Southern Africa, and Kyocera - who is one of Noscotek's leading resellers of Laserfiche products, who financed over R30 000 worth of prizes together.
"We're delighted to get involved in initiatives which align our business with the passion of offering meaningful document management to businesses," says Wayne Holborn, Managing Director at KYOCERA Document Solutions South Africa. "On behalf of KYOCERA we are proud to be involved with Laserfiche at this annual golf day and being part of the fundraising for Laerskool Edleen."
Through this sponsorship, Laerskool Edleen were able to raise a total of R55 000 in aid of their school.
Hannes Roodt, Headmaster at Laerskool Edleen commented that they are very appreciative for Laserfiche's involvement and support. "This year's golf day was a huge success, mainly due to the involvement of this dynamic company - we would like to thank Laserfiche for their substantial financial contributions and input into making the day a huge success; from the pro-golfers who made appearances on the course, to the prizes and table settings at the prize giving dinner."
"Laerskool Edleen would be honoured to continue this relationship and hope that our annual golf day will become synonymous with the Laserfiche brand", said Roodt.
For more details about Laserfiche or to schedule a business assessment, visit www.noscotek.co.za or contact Ricky Pilz, Sales Director at Noscotek at ricky@noscotek.co.za.