Raspberry Pi Zero tastier than ever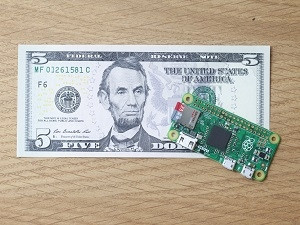 Raspberry Pi has released a new mini-computer, the Raspberry Pi Zero, which is 40% faster than the first model and $20 (R287) cheaper.
The product was developed with the intention of promoting the teaching of basic computer science in schools and developing countries. However, it does have a large following of hobbyists.
"Even in the developed world, a programmable computer is a luxury item for a lot of people, and every extra dollar that we ask someone to spend decreases the chance that they'll choose to get involved," Raspberry Pi founder, Eben Upton, says in a blog post.
"The original Raspberry Pi Model B and its successors put a programmable computer within reach of anyone with $20-$35 to spend. Since 2012, millions of people have used a Raspberry Pi to get their first experience of programming, but we still meet people for whom cost remains a barrier to entry. At the start of this year, we began work on an even cheaper Raspberry Pi to help these people take the plunge."
The Raspberry Pi Zero will be manufactured in Wales and cost only $5 (R72).
Raspberry Pi Zero features:
* A Broadcom BCM2835 application processor with a 1GHz ARM11 core
* 512MB of LPDDR2 SDRAM
* A micro-SD card slot
* A mini-HDMI socket for 1 080p60 video output
* Micro-USB sockets for data and power
* An unpopulated 40-pin GPIO header with identical pinout to model A+/B+/2B
* An unpopulated composite video header
* 65mm x 30mm x 5mm
The mini-computer is available in the UK and US, from The Pi Hut, Pimoroni and Adafruit, and online shops do ship worldwide.
Upton says tens of thousands of units have already been built, but they expect demand to outstrip supply for the next while.