Big data helps retailers capitalise on e-commerce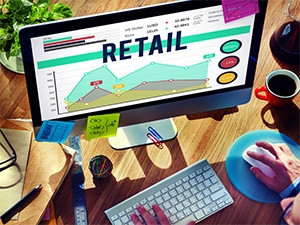 With online sales growing faster than store revenue, retailers should start using big data analytics to drive online sales as the digital marketplace is booming with opportunity.
This is according to Mike Iaccarino, CEO at Infogroup, who notes with the growth of e-commerce, retailers that don't meet consumer demand for personalisation risk major financial loss.
Juniper Research says the number of annual purchases made via mobiles, tablets, desktops and other connected devices should reach $125 billion transactions annually by 2018, up by more than 60% on this year's total.
On the other hand, IDC says SA spent $27.9 million on retail Internet of things last year, and this number is expected to grow to $36.3 million this year and be as much as $60 million by 2018.
Therefore, it is more critical than ever for companies to strategically spend their time, their marketing allowances and their research efforts to best capitalise on the online marketplace before their target customers take their loyalties elsewhere, says Iaccarino.
With quality data, retailers can break through the constant stream of online marketing messaging by understanding consumers' unique wants and needs, he adds.
This strengthens the relationship between the retailer and consumer and maximises the opportunity for sales, says Iaccarino.
One effective strategy for making online delivery both convenient for consumers and profitable for retailers is the use of storefronts as warehouses to decrease delivery time and cost, he notes.
"It is perfect for meeting the more recent consumer demands for same-day and free delivery, a difficult task for retailers who are shipping from across the country."
Innovative retailers should partner with data and technology providers to gain unique geo-data insights that can help retailers best appropriate where warehouses and storefronts should be added, says Iaccarino. This can help retailers best meet consumer expectations at a fraction of the cost, he adds.
Retailers should be effectively utilising the data they already have - for many retailers, the practice of capturing, cleaning, processing and updating cross-channel data is impractical, says Iaccarino.
"It's imperative to find a data partner that can blend multi-source customer data to target, personalise, cross-sell, and upsell thoroughly, quickly, and effectively."
Also, retailers can use analytics to ensure customers are being targeted effectively and drawn to the e-commerce site for business, says Iaccarino.
"Don't waste a good sales opportunity with untargeted advertising. Focus these analytics efforts on identifying audiences, predicting behaviours, and measuring outcomes."
In addition, personalisation is a major trend in the e-commerce industry today - retailers will need to break through the barrage of constant marketing messaging by understanding consumers' wants and needs, he notes.
This strengthens the relationship between the retailer and consumer, as well as maximises opportunity for sales, says Iaccarino.
CIOs need to focus their efforts on partnerships with technology and data providers that can turn big data into actionable insights and allow for a deeper understanding of consumers and the tools to effectively engage them, he adds.
Retailers are awash in data but really need helping making that data actionable," says Leslie Hand, vice president, IDC Retail Insights.
"Unfortunately, the cost is high, including acquiring the technology, talent and infrastructure to implement the kinds of retail science and analytics solutions that can provide return on investment for data, space, and inventory."
It has been difficult to make the business case to invest limited resources in such efforts - despite potentially enormous returns on the investment. This is where cloud solutions can have tremendous impact, she says.