DA pins hopes on ICT investment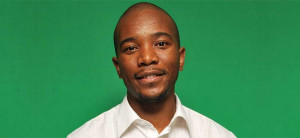 The Democratic Alliance (DA) has identified the role of ICT to spur economic growth and provide access to jobs.
This week, DA leader Mmusi Maimane laid out his party's plans aimed at answering the country's jobs crisis, with strengthened investment in ICT and infrastructure proposed as some of the core principles that will guide DA-led cities.
Other core principles include zero tolerance to corruption, fair access to opportunities, policy certainty and fiscal responsibility, reducing regulation and red tape, as well as private sector collaboration, Maimane pointed out.
Although the opposition party leader doesn't state how the DA-led cities will achieve these objectives and ultimately remedy SA's economic climate, he said he believes home-grown solutions will be required to solve the economic issues.
"DA-led cities ought to be running lean, efficient administrations that extend all the way to the day-to-day details - answer e-mails, return phone calls, follow up on complaints... I have asked our mayors to set this ambitious goal, let DA-led cities be known for their ease of doing business. Let us be the friendliest, simplest, most conducive places in South Africa to start and run a small business," he said.
Maimane added: "What we do in DA-led cities to revive economic activity is going to be key to our country's future. National government doesn't speak enough about city-led growth, but I believe this will be the make-or-break factor if we want create job opportunities for the millions of South Africans without work."
Last year, the opposition party wrestled the capital city Tshwane, SA's economic hub Johannesburg, and Nelson Mandela Bay from the African National Congress.
Model example
The City of Cape Town, which has been under DA governance the longest, has attracted generous ICT investments, making it a model example for long-term city-led economic development.
The Western Cape government has identified ICT as a necessity for development and economic growth in the city.
According to Cape Town officials, the city is currently branded as Africa's IT hub, with more than 20 acceleration programmes and more than 25 co-working spaces, where access to information and up-to- date technology is available. Each acceleration programme supports between 10 and 15 start-ups every year.
Furthermore, an investment of over R10 million in the Cape Innovation and Technology Institute - a job-readiness programme - has resulted in the upskilling of more than 900 underprivileged youth from low-income areas, providing a 96% successful placement rate.
Infrastructure push
SA is not yet on track to realise its full potential as a result of the lack of investment in critical infrastructure that is vital for any successful economy.
This was highlighted by Liu Haishi, chairman and CEO of ZTE Corporation SA, who identified lack of access to capital as one of the principal obstacles preventing high levels of economic growth in the country.
According to Haishi, one of the most critical infrastructure deficits in SA is in telecommunications, where SA has been playing catch-up for many years.
Investment in the telecoms sector is vital because modern telecoms infrastructure is a critical enabler of other forms of infrastructure, he said.
"Without an adequate telecommunications backbone, it will be impossible to achieve the benefits that will flow from other infrastructure investments by implementing such initiatives as smart cities, safe cities, e-education and e-health."
This technology deficit will become more pronounced as the emerging Internet of things develops into the Internet of everything, Haishi pointed out.
"This lack of investment muscle is exacerbated by a poorly conceived investment strategy in telecommunications. For example, the current focus on laying down a fibre backbone is insufficient to take the country to where it needs to be. Fibre will benefit only a small proportion of the population within urban areas, but will not be economically viable for the rest of the country, where large numbers of disadvantaged people live.
"However, a combination of fibre and 5G can make it commercially viable to provide broadband to a much greater proportion of the population. There needs to be a shift in thinking by considering the needs and requirements of the disadvantaged and aligning the telecommunication infrastructure accordingly."