The great social media marketing debate
It's difficult these days to turn the corner without tripping over a social media maven, rock star or guru. Given the propensity for claiming these self-appointed and aggrandising monikers, how do you know your Jedi is 'one with the Force', and isn't using mind tricks to lead you down the Dark path?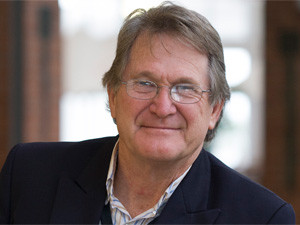 "Unfortunately, in the land of the blind, the one-eyed man is king," quips Mike Berry, an international marketing specialist and lead adjunct professor on The Master of Digital Marketing degree at Hult International Business School, in London. "The jury is still out on social media as a marketing platform; these are still early days in social media, and some experts have doubts over the long-term value. It's not surprising, then, that even big companies don't know how to spend their social media budgets."
If this is the view of a marketing expert with decades' of experience in the field, what chance do non-Jedi business executives have of forging a path in social media?
"Marketing is a process, and that hasn't changed over the years," says marketing analyst Chris Moerdyk. "It's like the checklist that a Boeing 747 pilot uses before taking off; a number of elements have to be in place to get a guaranteed return on investment. And social media is but one of those checklist items; it's not the be-all and end-all of marketing.
"One of the biggest problems is that marketers have become obsessed with social media to the point where marketing is all social media. This is extremely worrying."
By its very nature, social media was never intended as a marketing tool, let alone advertising medium. Name your platform and it's highly unlikely the developers set out with the intention exclusively to sell advertising. Take Twitter, for example. It has upward of 140 million users, and aspirations to follow the social media behemoth Facebook into the land of listed stocks, and yet its revenue model beyond promoted tweets is anything but clear.
Berry says social media started out principally as another medium through which people communicate with each other, and that's how users are most likely to continue to use the platforms. "I certainly don't think people go there for the advertising, but then people never watched television for the advertising."
Testimonials
The benefit that social media does have, however, is that the various platforms attract users who are there of their own choosing, and are often vocal and engaged audiences not shy to share their two-cents' worth.
Moerdyk points out that third-party testimonials have always been an important and powerful function that flows from advertising or marketing, which is an area in which social media excels. "Social media has become extremely powerful as an interactive communications tool, which is the foundation of marketing," he says.
With social media seemingly having leapfrogged to the front of the marketing queue, how do you break down the veil of mystery and obfuscation that surrounds the geek-speak and inflated egos?
"My business partner is fond of pointing out that where there's mystery, there's margin," says Mike Stopforth, founder and CEO of Cerebra, one of the country's first social media-focused agencies. "Unfortunately, that margin tends to attract people who are trying to gain some of the business on the back of the hype and fear around emerging technologies, and often without a strategic foundation and business experience."
At the end of the day, we have industrial-age organisations being challenged by digital-age technologies.

Mike Stopforth, Cerebra
Cerebra's position and longevity in the market have provided it with keen insights into the dynamics of social media marketing, leading it to take a holistic view of the discipline in the context of strategic, integrated communications.
"Social media tools touch so many aspects of a business. For example, we often field queries from HR managers looking for ways to attract the right people via social media, or financial directors wanting to learn about crowdfunding developments like Kickstarter. At the end of the day, we have industrial-age organisations being challenged by digital-age technologies."
To sell or not to sell
On the issue of using social media marketing as a sales tool, Stopforth says it's not impossible to sell via social media channels, but it shouldn't be the first step. "It's like joining a family at their dinner table - you can't simply walk in and start doing a hard sell, you have to earn the right to sell at that level. This comes with trust, authenticity and openness, which happens over a long time."
Moerdyk views the issue of authenticity as paramount to social media success, which is why he is a strong proponent of managing social media activities and campaigns in-house. One of the main reasons for this is the ability to respond to a situation with far greater speed and corrective action than if outsourced.
"There are many case histories that show companies hoping to deflect an issue, but by the time this happens, it's completely out of control. You need a situation whereby you can have a discussion and analysis in 20 minutes and get the process going," he suggests.
Berry concurs, saying organisations are recognising that social media is too fundamental to their business to be outsourced, and that it's not merely a marketing function: it touches on all aspects of the business. "And, a lot of social media is mundane work, and you don't need to pay an agency to do that," he says.
Moerdyk singles out two of SA's more visible Twitter-using CEOs, Pieter Uys of Vodacom, and Michael Jordaan of FNB, as examples of how direct and honest social media dialogue can be used to bolster credibility.
Work in progress
He suggests that this is aided by the fact that they have many journalists as Twitter followers, providing an open and accessible line to the top decision-makers. "The reason they tend to get sympathetic press in trying times is because the media is in contact with people making the decisions. If that interaction were via a third party, it wouldn't be the same.
"Whether they like it or not, chief executives are going to have to be active on social media. They can no longer say they couldn't be bothered with it."
The one point of agreement on social media is that it's a work in progress and that brands and marketers are having to adapt as the platforms evolve.
Berry points to the advances in analytics and reputation measurement on these platforms and believes that standalone Web analytics are starting to look a little inadequate.
"Sophisticated companies are looking at integrated analytics that can deliver business intelligence encompassing online, offline, call centre and internal interactions. The CEO wants a single view of the customer, while the marketing director wants to know what is having the most effect. There is little doubt the future is going to be an analytics beast," he says.
In the meantime, Cerebra's Stopforth suggests organisations overcome their fear of social media, and that good old-fashioned client testimonials should be requested when trying to verify the credentials of a social media "expert".
In the absence of any true Jedis in the market, however, some words of comfort are provided by the Jedi Master, Yoda: "Difficult to see. Always in motion is the future."