Former Altech boss aims to disrupt with new venture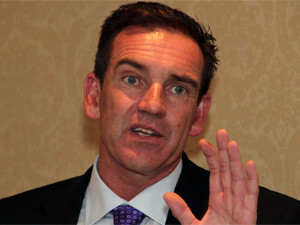 Craig Venter's new online sports betting venture ClickaBet is already gaining traction and the site is "doing hundreds of registrations per day", he says.
The Web site launched two weeks ago and the company says the first week "was equal to what other bookmakers get in two months".
"ClickaBet is undoubtedly a disruptor and we are going to disrupt and we have already started doing that," Venter told ITWeb in a telephonic interview.
The former Altech CEO says he remains "actively engaged at Altron as a shareholder".
Venter says he spent 15 months investigating the sports betting world, and the venture into a new industry is "a breath of fresh air" for him.
"The market statistics showed me there were great growth opportunities, especially here in SA," he says, where locals are "sports mad".
Upping the ante
Venter is confident there is money to be made, saying the online sports betting market in SA is growing at about 20% a year. Globally, sports betting has become a multibillion-dollar industry and Venter believes SA is following that trend.
"The projections run into the millions in terms of profitability. Targets are to break even in 12 months and then R10 million to R20 million a year after that in terms of profit," he says.
According to PricewaterhouseCooper's (PwC's) gambling outlook for 2015-2019, sports betting is expected to expand at double-digit rates for the next few years. In 2014, it was the second-largest revenue-taker when it came to total gross gambling revenue in SA, comprising 14% of the market.
PwC says sports betting is an emerging market and has partly been fuelled by online wagering.
"We expect sports betting to overtake horseracing in 2017 and account for 57% of the market in 2019, compared with 46% in 2014 and only 18% in 2010," according to the PwC report.
Venter's new venture is a level two black empowerment contributor, with 40% of the business owned by black business women Nomzamo Xaba and Sonja Sebotsa. Venter holds the remaining 60% of the company.
So far, shareholders have put in an excess of R5 million "and more will follow".
Venter believes he can maintain a "very healthy and profitable business" as long as ClickaBet can maintain between 1 000 to 2 000 active customers using the site, and he is happy with how registrations are going so far.
"Of course, you win some bets and you lose some bets but overall one would imagine that it's the same as if you go to a physical casino; the odds are in the house's favour."
Licensed to thrill
Venter says his Web site is basically "SuperBru but with money". The social sports prediction and fantasy game has over a million subscribers, which points to South Africans' obsession with sport.
Unlike SuperBru, ClickaBet does involve cash and is therefore fully licensed in SA by the Western Cape Gambling and Racing Board.
The platform runs entirely online and consumers can bet on both local and international sports. On any given day, the site can handle 11 000 different betting options. Bets can be placed for as little as R5, and up to as much as R500 000.
Venter says the Web site is "absolutely secure" and takes every precaution to protect customers' banking and personal information.