Home-grown digital disruptors rule
SA is the place to look for enterprises wanting to make their next big business move, writes TransUnion Africa CEO Lee Naik.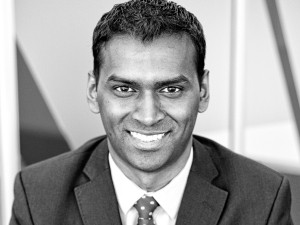 Digital disruption is the new gold standard for business success, so everyone's on high alert, tailing the global tech titans in the hopes of picking up a thing or two along the way. No doubt they will; however, my advice is not to get so caught up in what's happening half a world away that you miss out on the sparks flying here at home.
With the likes of Musk, Bezos and Zuckerberg often dominating the news and our attention, it's easy for other luminaries of digital disruption to go unnoticed, especially those sitting right under our noses in South Africa. And that's a shame, because they have a lot to teach the rest of us, with a local perspective to boot.
Entrepreneurs shaping the digital revolution
Bevan Ducasse's company wiGroup, which shot to billion-rand status after attracting substantial venture capital from Investec in 2015, has launched an m-commerce platform, with Woolworths already implementing it in the form of its NOW NOW app. It enables consumers to pre-order and pay for products in advance and on-demand, removing the need to queue - all while using existing infrastructure.
Another big player in the mobile payments arena - probably the biggest for that matter - is Thumbzup CEO Stafford Masie, who launched the gone-global Payment Pebble system in partnership with Absa.
The initial design of this innovation had it plugging in to merchants' smart devices via the audio jack. However, one of the reasons for its international success is that Masie didn't stop there. He bettered it with Payment Blade, the world's first standalone mobile point-of-sale system, cutting out the unnecessary costs that came with running the system on a separate smart device.
Then there's the local born and bred Vinny Lingham, who has taken his South African sense of resourcefulness to Silicon Valley, where he just kicked off Civic. It's essentially a blockchain-based digital passport to everything from your financial, e-commerce and crypto-currency profiles to potentially one day being able to vote from the privacy of your own home.
It also simultaneously protects consumers' information, since it doesn't make use of hackable servers, and it puts the power to approve or deny access to information into the consumer's own hands.
Straying from your comfort zone is a non-negotiable when it comes to being disruptive.
Lingham's area of expertise is e-commerce, but he was inspired by his online gift card service Gyft, which dealt with its fair share of cyber crime threats. Many other e-commerce entrepreneurs have faced this exact same issue, but Lingham decided to do something about it and that's exactly why he's making headlines right now, and they aren't.
Corporates redefining their role in the digital age
It's not only entrepreneurs building new disruptive businesses from the ground-up that are driving relevance. The flipside of the disruptive coin is how traditional corporations are working with these smaller players in making the new tech ubiquitous.
The banking industry is at the vanguard of corporate digital disruption right now, and Barclays Africa CIO Ashley Veasey has been leading the charge. His more-than-a-bank mentality, targeted at turning banks into enablers of disruptive tech, as opposed to just providers of financial services, has resulted in many forward-thinking initiatives. This includes the Barclays 'Aliens' development wing, that looks more like a hipster coffee hangout than a corporate space, replicating the environment of the top tech innovators.
Meanwhile, the trickle-down effect of this disruptive-focused approach can be seen at Absa, a subsidiary of Barclays Africa, which effectively just became the first bank in the world to fully authenticate customers via Facebook Messenger with its new chatbot technology.
On the investment front of disruption is Liberty with its Stash app, which automatically invests spare change every time you spend. It then deposits those savings into the biggest companies at the best possible time. Its tagline is an attractive one: No forms. No fees. No taxes.
But it's how it has replicated consumers' favourite lifestyle tech that makes the app so sticky. What's one of the top reasons to buy wearables? Steps... people love to count steps, don't they? Well then, how do you think they'll feel about an app that incorporates this element, to monetise every step taken and every calorie burned. Pretty good, clearly. The simple secret to this app's success is that it's making investing fun.
Becoming a disruptor
You don't have to be a seasoned entrepreneur or one of the big four banks to be disruptive. You just need to answer one question... where do you start? Every single one of these entrepreneurs and corporates followed certain approaches. And it is these three things that should be the basis of your disruption strategy.
Invest:
In the case of wiGroup, it reportedly invests around 10% of its turnover in innovation research and development. It's what enabled it to partner with Woolworths. But if you can't spare the resources to focus on more disruptive methods, you can always invest in a company that will do it for you.
Reinvent:
When you do succeed, avoid the temptation to keep coasting on that. Liberty's Stash makes a clear case for the benefits of changing your image to suit the current consumer climate, and as it says, it's always a case of disrupting or being disrupted. If Masie hadn't decided to improve on his concept, someone else eventually would have.
Stray:
The most prominent entrepreneurs like Lingham value a diversified portfolio of businesses and the same goes for companies like Barclays that are exploring a new path for their industry.
Straying from your comfort zone is a non-negotiable when it comes to being disruptive, so stop focusing so hard on what you're doing and consider what you're not doing. That's a good place to start.
Everyone is always talking about the concept of "disrupt or be disrupted". It makes it sound like we're all in competition. But at the end of the day, disruption is all about charting new, better courses, and with the economic climate worsening, that will ultimately mean doing it together.
After reading this, do you think you would be more likely to consider new partnerships geared towards promoting disruption?