Mainstream virtual reality not far off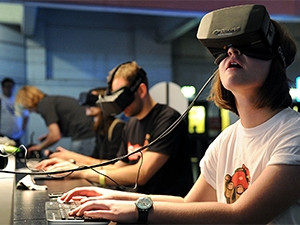 As early as next year, virtual reality (VR) headsets will be commonplace in households across the world.
Applications of VR are vast, reaching far beyond the world of gaming. Film-makers are also embracing the format as an immersive and visceral way of telling stories.
The New Dimensions VR exhibition currently taking place in Johannesburg showcases the greatest hits in VR film over the last two years. It encompasses work from all over the world and gives audiences a taste of the variety the format has to offer, including video, animation, and documentary.
The exhibition is part of the Africa Futures Festival and is co-curated by Steven Markovitz of Big World Cinema, and Ingrid Kopp, a senior consultant at the Tribeca Film Institute.
When Markovitz first experienced VR, he knew it was going to be a "big deal" and saw it was a new format in its infancy. He did not want Africa to be left behind. The narrative he saw being displayed in VR of the continent was of the clich'ed pictures of elephants in safari plains or something to do with 'Africa Rising'.
"There are so many stories in between that were not being told."
A four-day intensive workshop was held before the exhibition for creatives from Africa to explore the format. Work will be commissioned from workshop attendees for next year's exhibition.
The headsets used at the event include the Oculus Rift, Samsung Gear VR and a set custom-created by one of the workshop attendees.
All current headsets were released for developers, but Kopp says they did not want to wait for mainstream gear to hit the shelf. "People need to start being exposed to this format and its applications now."
Reality in 2016
The format is in beta phase at the moment, but Markovitz predicts within the next year it will become more mainstream - largely driven (at first) by gaming.
The first consumer Oculus Rift is said to be released in the first quarter of 2016 and South Africa should see them in stores by the end of next year.
Hardware companies are seeing VR as the new DVD, says Markovitz. With DVDs, they were able to sell a lot of equipment for the format, which died down as online streaming and downloading became more commonplace.
"VR is an opportunity for them to boost revenues and all the big tech companies will be pushing their own VR masks to market soon."
Markovitz says this will drive content creation for the devices in all industries.
However, VR will not be an immersive experience to only be experienced by the super-wealthy, such as with 3D television.
Google's low-cost VR goggles, Google Cardboard, aim to bring VR to those who cannot afford hi-tech headsets. It is made out of cardboard and holds a smartphone in front of lenses. After the smartphone has a VR app downloaded to it, the viewer is able to move their head in any direction and see a 360-degree virtual world.
The New York Times recently announced it will give away more than a million Google Cardboard VR sets with its 7-8 November weekend edition, to promote the launch of its own VR app.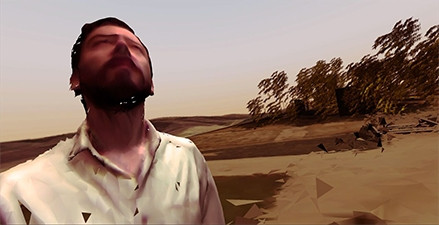 Assent is one of the VR movies on display at the exhibition. It is a rendition of a troubling memory. Director Oscar Raby's father was witness to the Caravan of Death, a brutal campaign that executed military detainees in Chile during the aftermath of the coup in 1973.
Raby and his producer Katy Morrison are part of digital production studio, VRTOV. The company created Assent in 2013 and is working on other projects that explore VR as a documentary format.
"VR is a very visceral experience," says Morrison. "Audiences move around and physically react to what they are watching."
VR allows audiences to immerse themselves in someone else's shoes and see the world from another point of view.
"Film had a 100 years to develop a language that made audiences understand and interpret the lights projected onto the wall," says Raby. "VR is still figuring out its own language."
Health kick
Education and healthcare industries are two of the many industries already researching ways to make use of the format.
Markovitz says VR could easily be used in education to provide almost-real experiences for students in subjects such as history or geography. A VR headset would be part of the students' 'stationery'. Places like the pyramids in Egypt, volcanoes in Hawaii, or England in the middle ages could be easily 'visited' during class to give students a deeper understanding of the subject.
In healthcare, VR is being used to treat post-dramatic stress-disorder and phobias.
It is also being used to treat phantom limb pain. Patients play VR games which make use of a virtual limb. Research shows the brain is tricked into thinking the limb is still there and pain is alleviated.
The applications of VR are endless, says Markovitz: "And no one knows where it will go, because here is a technology format that can potentially change the way your brain functions."
Social VR
Facebook CEO Mark Zuckerberg spoke earlier this month at the Vanity Fair summit about VR and the social network's plans for its newly acquired company, Oculus.
Zuckerberg said the Internet is in the golden age of online video. "But, I don't think it is the end of the line - there is always a richer and more immersive way you want to experience things.
"Video is just this 2D format where you are looking at it through this small window and I don't think it is the ultimate in human experience we want to share."
When Facebook bought Oculus last year, Zuckerberg said: "This [VR] is really a new communication platform. By feeling truly present, you can share unbounded spaces and experiences with the people in your life."
Zuckerberg said he was looking forward to capturing his expectant child's first steps in virtual reality so he and his wife could share the moment with family and friends. "To give them the ability to actually be there and feel it and see what it is like."
Markovitz says VR experiences will definitely start to be shared on social networks; it is just a matter of time. "There are already apps that let you record VR."
Two sides
With every new technology and disruptive format, there is always a sinister knee-jerk reaction from the public. This often stems from the fear of the unknown, says Raby.
Critics say VR will distance people from each other, and there will be those who will prefer to live in a virtual world interacting with virtual people. They see the headset as a blindfold to the outside world.
However, Markovitz says the experience will create more empathy for other people and situations. Raby and Morrison say another way to look at VR is that people are finally by themselves again ? away from the constant distraction of social media.
The New Dimensions exhibition is on show today and tomorrow from 10am until 5pm, at the Goethe-Institut in Parkwood. Entrance is free.
Way to Go is an interactive VR experience, created by Vincent Morisset. The piece mixes hand-made animation, 360-degree video capture, music and code.