Seacom blames civil construction for outages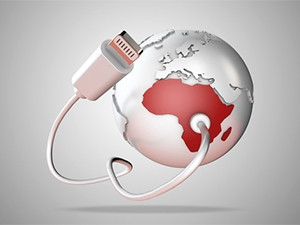 Undersea cable operator Seacom says civil construction activity in Egypt is to blame for the multiple outages which yesterday left most of Africa without Internet connectivity.
The company has since successfully fixed its terrestrial network which experienced the glitches in the North African country.
According to the cable operator, the Northern Trans-Egypt route was damaged between Cairo and Alexandria, while the Southern Trans-Egypt route was damaged on the outskirts of Cairo.
Both events were caused by civil construction activity, it adds.
The outages disrupted Internet connectivity in SA as the Seacom cable links the country to East Africa and Europe.
To exacerbate the problem, the West Africa Cable System (WACS), which Seacom uses as backup, went down at the same time, leaving most African countries without Internet connectivity.
The Seacom network uses bundled backhaul, open access points of presence and global partnerships to provide end-to-end wholesale connectivity around the world for African network operators.
Seacom's submarine and terrestrial networks stretch across 17 000km, connecting Africa to Europe, Asia and the Middle East.
After deploying repair teams to monitor the situation, the cable operator last night said: "The Seacom terrestrial network was successfully repaired on the 21st January 2016 at 16:46 GMT. Seacom would like to take this opportunity to thank all of our customers, partners and peers for their collaboration and support during the outage.
"During the two hours and 40 minutes that Seacom experienced a dual failure across Egypt, we were able to route Internet traffic through India."
However, the cable operator says many operators in Africa use a basic transmission service that links directly to Europe and use the WACS as a backup. "With the West coast experiencing an outage at the same time, international connectivity at many of these service providers failed or was degraded while we worked to repair the faults in Egypt."
New network partner
Meanwhile, this week Seacom entered a partnership with network provider Ciena. The companies say local Internet service providers are set to benefit from the increased reach and enhanced capacity afforded by the deal.
Both firms will deliver new network solutions with 100Gbps upgrade to service providers across Africa and into main European points of presence through key submarine links.
"Africa is experiencing massive growth and demand for network services. With Ciena's technology supporting our infrastructure evolution, we can ensure cost-effective data connectivity to end-customers across the continent and internationally, ensuring Africa is ready for the next generation of applications and high-bandwidth broadband services," says Seacom chief technology officer Claes Segelberg.
Mark Tinka, head of engineering at Seacom, says the operator's move into mainstream 100Gbps backbone technology means it will become easier to offer high-speed 1Gbps, 10Gbps and even 100Gbps ports and services to both Seacom's IP and transport customers.
"Seacom's existing infrastructure has more than ample capacity to support both existing and future requirements from our current and new customers. However, the per-bit unit cost of bandwidth reduces as the amount of availability and used capacity increases. Moreover, energy and space constraints mean it is more efficient to purchase 100Gbps technology instead of 10x 10Gbps, for example," Tinka explains.