Mobile phone boom in Asia-Pacific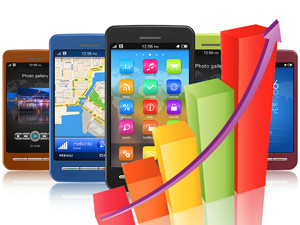 The latest research by Gartner reveals that in the first quarter of 2013, the Asia-Pacific region led worldwide mobile phone sales, with 53.1%. It is also the only region to show growth in mobile phone sales, with a 6.4% increase year-on-year.
Mobile phone sales in the Europe, Middle East and Africa region declined 3.6%, while North America and Latin America's mobile phone market fell 9.5% and 3.8%, respectively.
The research report showed that close to 426 million mobile phones were sold worldwide in the first quarter of 2013, an increase of 0.7% year-on-year. Smartphone sales increased 42.9% year-on-year, selling a total of 210 million units worldwide.
Principal research analyst at Gartner, Anshul Gupta, says more than 226 million mobile phones were sold to end-users in Asia-Pacific in the first quarter of 2013. "In addition, China saw its mobile phone sales increase 7.5% in the first quarter of 2013, and its sales represented 25.7% of global mobile phone sales, up nearly two percentage points year-on-year."
Gupta adds that the main driver for the increasing sales in the region is Chinese and local manufacturers addressing the demands of buyers by offering affordable devices with optimum features such as 2.5G (EDGE) instead of 3G in a smartphone.
Smart versus feature
The research also shows smartphones accounted for 49.3% of mobile phones sales in the first quarter of 2013, and sales of feature phones declined by 21.8%.
Gupta says the decline in feature phone sales will have an impact, as it will slow down the overall market growth. "Feature phone users across the world are either finding their existing phones good enough, or are waiting for smartphone prices to drop further; either way the prospect of longer replacement cycles is certainly not good news for both vendors and carriers looking to move users forward."
This contributed heavily to Nokia's market share dropping 4.9%. Nokia also lost its footing in the smartphone market, dropping to number 10 in the first quarter of 2013.
In SA, Gupta says smartphones accounted for 50% of all mobile phone sales in the first quarter of 2013.
Different perspective
Last month, research by the International Data Corporation (IDC) Worldwide Quarterly Mobile Phone Tracker found smartphones sold more units than feature phones in the first quarter of 2013, making up 51.6% of global mobile phone shipments.
Research manager with IDC's mobile phone team, Ramon Llamas, says the emergence of Chinese companies among the leading smartphone vendors contributed to the slowdown of feature phone shipments.
"A year ago, it was common to see previous market leaders Nokia, BlackBerry (then Research In Motion), and HTC among the top five. While those companies have been in various stages of transformation since, Chinese vendors, including Huawei and ZTE as well as Coolpad and Lenovo, have made significant strides to capture new users with their respective Android smartphones," notes Llamas.
Breakdown
Samsung still remains at the top of both the mobile phone and smartphone tables in the first quarter of 2013, while its biggest competitor, Apple, sits in third place behind Nokia. While the Finnish manufacturer lost more than 4% market share, Apple managed a slim increase of just over 1%.
Gupta says the US computing giant is becoming increasingly dependent on the replacement market as its addressable market is capped. "The next two quarters will also be challenging, as there are no new products expected to be coming before the third quarter of 2013."
He says China is a key contributor to overall sales for Apple, with sales reaching close to seven million units in mainland China alone due to the lower price of the iPhone 4.
He adds that Apple is targeting a niche segment and in markets where devices are not subsidised and sold through open channels. "In SA, Apple sold roughly 195 000 devices in the first quarter of 2013."
Meanwhile, local and Chinese manufacturers in the Asia-Pacific region showed massive growth, increasing their market share to 29% from 13.2% the previous year.