FlowCentric Technologies Innovation Partner of the Year leverages IOT, Processware to streamline SHEQ management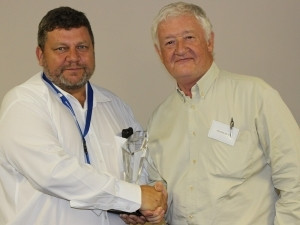 Business process management (BPM) software developers FlowCentric Technologies is proud to showcase its Innovation Partner of the Year, Ability Solutions.
Ability offers a range of vertical solutions in the ERP space, as well as a number of horizontal solutions that address business intelligence, business process management, demand planning and analytics.
The South African-based organisation focuses primarily on the financial services and wholesale distribution industries, but has solid experience across a broad spectrum of industries ranging from bulk distribution to heavy industrial equipment management.
"Ability's goal has always been to create a seamless product offering, using the best technologies available," says John Olsson, Sales and Marketing Director of Ability Solutions.
"We develop and maintain our own ERP solution, and therefore are committed to protecting the interests of our customers. We do this by ensuring that our solution caters for relevant market trends, both functionally and technically."
Olsson goes on to explain: "FlowCentric Processware initially allowed us to extend the scope of the Ability Suite, however, we have since created independent applications such as a mobile SHEQ solution for the industrial environment and an Internet of things (IOT) enabled asset and safety management solution."
Ability won the FlowCentric Technologies Innovation Partner of the Year 2016 for its SHEQ Lite solution. The solution is designed to support the requirements of the Occupational Health and Safety Act, with specific reference to the mining and construction sector.
Compliance plays an essential role in corporate management. Poorly or inconsistently executed business processes put organisations at risk of violating regulations and can result in steep penalties or worse. Ability Solutions' SHEQ Lite supports real-time digital data capture in the workplace, regardless of whether an Internet connection is available at the time of capture. The risk of non-compliance is greatly reduced by using Processware to schedule tasks directly to the mobile devices associated with specific users.
Processware allows users to monitor and reroute their tasks, while ensuring any unattended jobs are escalated in a timely manner to ensure each task is completed promptly. Processware keeps a full audit trail of all activities that occur from inception to completion, thereby ensuring all parties are held accountable for their actions on the system.
The solution's online/offline capability means people in the field can capture all the required information, irrespective of whether an Internet connection is available at the time, and the data will be transmitted when a connection becomes available. This method ensures business can continue uninterrupted regardless of the location being inspected.
"The mobile component of the solution can run on Android, Apple or Blackberry devices, allowing users to select the right tool for the job. Some clients prefer to use their own mobile phone while others choose rugged IP65 rated devices for harsher environments," Olsson clarified.
"The SHEQ Lite solution not only replaces old paper-based forms, but also includes additional auditability through date and time stamps, GPS location, and digital signatures. Non-compliance reports can be supported by a range of photographs or freehand sketches, created on the device, to meticulously document each situation. All this information is captured, archived and can be audited at any time."
"Ability Solutions has been a partner of ours for a number of years, and the innovative solutions the team creates using our BPM software continues to impress," said Denis Bensch, CIO, FlowCentric Technologies.
Out in the field and in the office, Ability Solutions' SHEQ Lite offering provides a powerful digitally enabled SHEQ management solution for progressive businesses.