SA certificate evaluation goes digital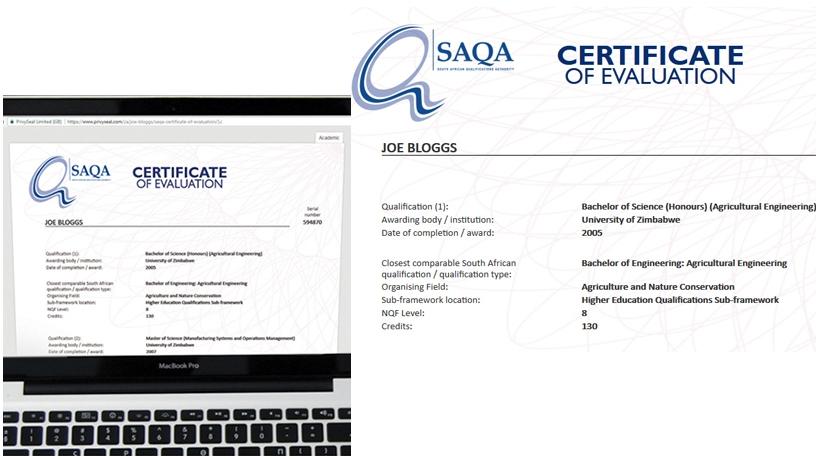 The South African Qualifications Authority (SAQA) has embarked on a pilot project that aims to reduce the time it takes for foreign qualifications holders to receive the outcome of their evaluation.
SAQA is the official authority that evaluates foreign qualifications and then compares them to national qualifications by locating them within the South African National Qualifications Framework (NQF).
This week, the authority introduced the digital Certificate of Evaluation, an electronic certificate issued to holders of valid qualifications obtained from other countries.
SAQA CEO Joe Samuels said currently the digital certificate is only for those individuals with valid foreign qualifications. This falls into two categories: South Africans who studied in foreign countries and people coming from other countries with foreign qualifications.
The digital certificate comes with a digital seal, which can be embedded in e-mail signatures, social media profiles and Web sites so that holders can showcase their qualifications. The certificate can also be shared and verified in real-time as evidence to support applications for further studies, visas, employment, registration and professional licensing in SA.
"The certificate is only issued to holders of valid foreign qualifications after their qualifications have been verified as authentic and compared with South African qualifications that are registered on the NQF to determine where they fit within the framework. This is done in line with legislation and regulations that mandate SAQA to provide evaluation services for foreign qualifications."
Discussing the motivation to introduce the digital Certificate of Evaluation, Samuels notes fraud as one of the reasons.
Only a court of law can determine if a qualification is fraudulent but SAQA is able to detect misrepresented qualifications, he explains.
"In the 2016/17 financial year, we recognised 25 000 foreign qualifications and of these only 200 (0.8%) were identified as misrepresented. However, one misrepresented qualification is one too many, so when we identify such cases we hand them over to the police for prosecution."
Samuels adds that holders of foreign qualifications first need to apply to SAQA for their qualifications to be evaluated, and once that process has been concluded, obtaining the digital certificate can happen as soon as the outcome of their evaluation is ready for collection.
"All they need to do is register their details ? names, contact number and e-mail ? on the Web site. If their details match the ones they provided when they applied for the evaluation, then they will be issued their digital Certificate of Evaluation immediately."
He concluded that SAQA will continue to issue both the paper-based and digital certificate during the pilot period. "We will use the pilot to improve our systems and assess whether we implement the digital certificate on a permanent basis."