MapIT, Demographica pioneer drive-time marketing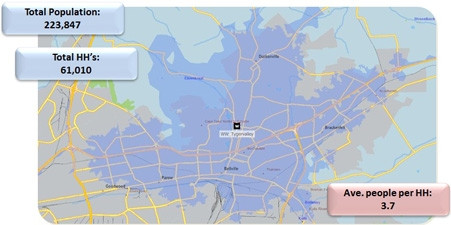 MapIT has partnered with Demographica and Tracy Stewart Consulting to offer Drive Time Analysis (DTA), a business tool that enables location-based marketing using Demographica's consumer database and MapIT's technology to estimate drive time.
The service will enable marketing targeted at consumers within a particular catchment area, based on estimates of how far consumers are willing to travel for a particular service.
"Because we have high-quality roads, with live traffic, we can create a drive-time radius of five minutes, 10 minutes, from a central point, which can then be dropped on top of demographics, LSM data sets and census data to evaluate what's out there," says Etienne Louw, MapIT MD. "In the past, businesses would send messages to untargeted audiences, but now they know they'll hit people within a certain radius."
"With hyper-local, hyper-relevant messaging, within a particular area, the likelihood of interacting and reacting is higher," says Danielle Hadassin, Demographica marketing manager.
Demographica's database of 30 million consumers' SMS details and six million consumers' e-mail details provides the basis for the targeted marketing. The data used for DTA is based on home addresses and enables marketing targeted at consumers' assumed movements, rather than live location updates.
"MapIT is differentiated from competitors by the Drive Time Analysis," says Louw. Competitors are just "dropping circles onto the map", he explains, taking into account only a simple distance radius, which does not account for winding roads or traffic.
Privacy can become a complex issue with this kind of service, acknowledges Hadassin, emphasising that Demographica is CPA-compliant and only uses data from consumers who have opted in to receive information, with the option to opt out at any time. "We take all the red tape around legality very seriously," she says.
"Services like these have to be in a managed environment to safeguard privacy," says Louw. "But people are keen to share their information if they are given value in return, such as discounts on services like Foursquare."
He asserts that targeted marketing is providing value for consumers, by informing them about services that are relevant to them and easy to access. "DTA differentiates here because opting in gets me value - consumers won't stop opening all this communication because it's all irrelevant to them; they'll start realising that information from Demographica is worthwhile."
The service can be used for other purposes, explains Tracy Stewart of Tracy Stewart Consulting, such as gaining information on consumers' movements. "We haven't yet been able to understand or access the moving consumer," she says. There is potential to develop live demographic profiles of consumers in the database, adds Louw.
"DTA makes the difference between generic and tactical marketing," says Stewart.