What being an IT security problem solver means
Willie Strydom started working as a technician in 1999 for a small investment services company called TMA. Information Security was in its infancy at the time, and he recalls reading about the various ways a windows server could be hardened and thinking: "This [security thing] could go big". He was right. He is pleased the financial sector takes information security seriously, and has done for some time now.
The biggest challenge is managing the people managing the technology, he notes. Computers do as they are told. People, however, require more understanding. He wishes he had studied psychology before going into IT as it would aid in this regard.
Strydom's experience in IT comes with a deeper understanding of himself and how he came to be involved in the world of cyber security at a financial institution. He gets bored easily, he says, and the fact that attackers/hackers are always finding new ways to exploit the system keeps him on his toes. Because he is results-driven, he expects to see action quickly, yet some IT-related projects take time to implement. This is challenging for him yet he accepts that careful planning and the long-term goal are also important. As a result he keeps himself busy with other smaller projects simultaneously, which he enjoys about his role and his area of expertise.
How does Strydom stay ahead in this fast-paced and continually evolving business? "I've always got three or four podcasts on my phone. So my commute to work is always a learning experience. I also follow the coolest kids on Twitter to ensure I get the freshest info fast," he states. He also trains online on YouTube on subjects of particular interest in him, or if he needs to sharpen his skills in a particular area.
For those considering entering a career in information security, Strydom says jokingly: "Don't do it". However, he says, if you are willing to pay the price the job demands, the rewards are endless. He emphasises the need to constantly read, listen, watch and learn to ensure keep up with a constantly evolving industry.
It is fast paced and there is much you need to know that can change instantaneously. If you aren't passionate about the subject and continually learning, then it isn't the career for you. It will burn you out, says Strydom. However, if it is your passion, he says it is rewarding. One thing he says he wishes he had was the ability to code. "A developer's mind-set has become an essential requirement of the job. Learn Python."
Strydom has been heard saying that he wonders if in 15 years he would still be able to do his job as the world is becoming more and more complex and complicated. He expects the future of the security expert will look very different to the way it does today. Roles may be broken up into a few smaller disciplines and as a result one person would need to know a lot about a little versus little about a lot. He predicts that in the future organisations will need to call on SMEs that know a lot about a little to provide an in-depth specialised service for a specific project.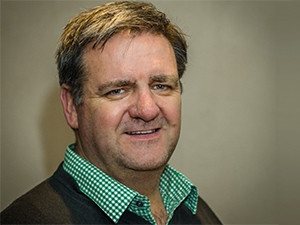 What does he believe was a career-defining moment for him and what did he learn the hard way? "I have two career-defining moments. My first job was as a Telkom techie. Leaving telecoms for IT was a good move". Secondly, Strydom says: "At TMA, my IT director came into the office one day and he asked us techies who wants to be a Webmaster in addition to their current workload. My hand shot up, despite not having a clue what a Webmaster was at the time. That principle has served me well a few times since".
He says that people management has been a challenge for him and something that he had to learn the hard way over and over again. He also has a knack for diving into the deep end and learning how to swim once he is in. At one point in his career he volunteered to do his boss's excel pivot tables, without having any idea how.
On a lighter note, Strydom tells us that out of all the super heroes he thinks it would be cool to be Superman, just because he can fly. He enjoys landscape photography as it allows him to tap into his more creative side, and he admires people who see something before anyone else, such as Mark Zuckerberg (Facebook), and Larry Page and Sergey Brin (Google). If pushed he would single out Steve Jobs (Apple) because of his vision on how people would use his product.