Mint sponsors DevConf 2016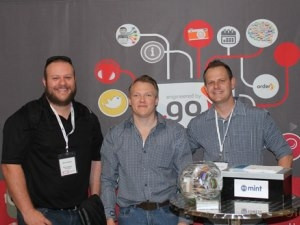 With 460 delegates attending the annual DevConf seminar, hosted at the Riversands Incubation Hub in Fourways, Johannesburg, Microsoft Gold Partner Mint Management Technologies says it derived great exposure, networking opportunities and useful information from its investment in the event.
DevConf is a community-driven, developer-focused one-day conference hosted annually that aims to provide software developers with a buffet of tools, practices, and principles applicable to tackling current and future challenges in the South African software development environment. The event affords attendees an opportunity to learn, network, and be inspired regardless of their specific technology stack and programming language of choice.
Mint Human Resources Executive Lauren Clark notes the 2016 conference showcased the creative and exciting side of being an IT developer and offered insights and wisdom from an array of experts, organisations and disciplines. In addition, it demonstrated the career possibilities and personal development opportunities available in the IT industry.
Closing the skills gap
Clark added that DevConf serves as a very important tool for the human resources industry as the acquisition of developer talent for organisations is an ongoing challenge, owing to the skills shortage in this area within South Africa.
"The lack of IT developer skills stems in part from poor IT education as well as a lack of awareness around this discipline as a career path," she explains.
Mint has engaged in an annual internship programme and an apprenticeship programme in order to educate and upskill potential employees in the IT industry. Through its corporate social responsibility arm, DotUnity, Mint has participated in numerous community awareness programmes to help close the local skills gap, and has identified DevConf as a valuable tool for this purpose,
Deriving the maximum benefit from the Devconf exposure opportunities, Mint engaged with developers and marketed the company to attendees by hosting a competition where delegates stood a chance to win a R3 000 gaming voucher.
"We had a great response to this competition with hundreds of entrants and a constant stream of developers engaging with our IT experts at our stand to hear about our company and see how we are disrupting the market through IT innovation," Clark notes.
Clark reiterates that Devconf 2016 served as an important platform for collaboration between IT organisations and employees, and shed light on the challenges and opportunities in this area. This enabled developers to see where innovation and change is needed and apply their knowledge and skills in those areas.
"DevConf hosts an array of opportunities for South African organisations to ensure more entrants into the IT sector. From the event we can gain a better understanding of the the available current and future talent in the industry and, therefore, Mint is very much looking forward to DevConf 2017," she concludes.