IntelliCred prevents online brand abuse
The online affiliation management product converts a company logo into a secure Trust Seal.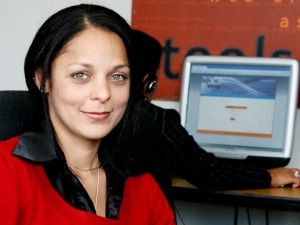 IntelliCred helps companies to protect themselves from online brand abuse with an online affiliation management product called the IntelliSeal.
In 2012, an estimated $200 billion in revenue was lost to online brand abuse, says IntelliCred founder and CEO Shana Kay, and the online reputation industry is valued at $5 billion at the moment.
The IntelliSeal converts a company logo into a secure Trust Seal, with a double verification process, providing "visible trust", says Kay. This enables businesses to grant permissions for the use of their logos by affiliates and partners, and save time and money tracking counterfeiters and other brand infringers. It also allows these permissions to be revoked at any time.
IntelliCred is Kay's third tech venture, following a successful software development company and a digital agency. Kay was selected in 2009 as one of 12 women in ICT to study entrepreneurship at the University of Maryland, Baltimore.
"I love the fact that tech allows a business to do so much more," says Kay. "If you implement tech it makes it so much more efficient - and it's so much more fun. Every business can be made 10 times more fun by implementing something cool."
The product is still in its pilot phase, with full launch about a month away, says Kay. "The response has been very positive. Companies are responding with feedback that this is solving a problem they have."
Seed Engine has been very challenging, says Kay, but she has learned and grown a lot. It has been the first time she has had a board of people she is accountable to, she says, and "making a decision by committee is a lot harder than making it on your own. It's been challenging.
"I've also changed," she adds. "I've had to let go and let other people help me make the decisions. The mentors are constructively critical, but helpful where needed."
Further products are on the horizon for IntelliCred, including the IntelliGreen seal, which will show carbon emissions and energy usage for a business. This will be created in partnership with Carbon Tracker, which provides real-time reporting on the energy efficiency of buildings, and can control energy remotely with actions such as switching off lights. While Carbon Tracker will provide the data, "they will plug into our product and security", says Kay.
She is currently recruiting for a sales/operations manager with potential to become her new business partner.