MWeb closes stores, moves sales online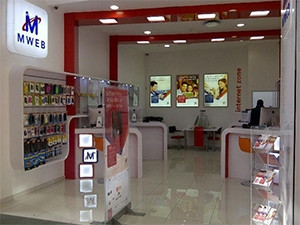 MWeb will close its retail stores across South Africa at the end of March, opting to move all of its sales online.
The company will provide "an improved and streamlined customer sales experience, starting with a new-look MWeb home page which will launch at the end of March", MWeb GM Carolyn Holgate told ITWeb.
Holgate says MWeb is increasing its focus and resources on fixed-line broadband, including fibre-to-the-home (FTTH) and ADSL.
"Due to the nature of the FTTH market, we are focusing on sales channels where our customers are and where the FTTH infrastructure is, to ensure we can help our customers work out what is best for their needs."
Holgate says MWeb is upgrading its online sales channel to enable quicker and easier online signup "allowing customers to shop when it suits them".
ICT veteran Adrian Schofield believes this is an appropriate move, given the current state of the market.
"MWeb's competitors are following this route and MWeb's brand is sufficiently established that it does not need store-front presence to support it."
BMI-TechKnowledge director Brian Neilson agrees this is probably a smart move because "most Internet subscribers have gotten used to online-only services of this nature". He himself has an account with an ISP that has no retail presence and says "a retail presence makes no difference to me".
Schofield points out that when looking at the products and services offered by MWeb, it is easy to see the vast majority do not require face-to-face discussions to conclude a sale.
"MWeb reaches a far more widespread market through online channels than it can through geographically fixed stores. With the growth in competitive courier services to ensure rapid delivery of the physical items (such as modems and SIM cards), it makes sense to remove the overhead of fixed premises and channel the investment into efficient distribution and customer support services," he says.
"Perhaps a store-within-a-store concept could still be a good bet for the likes of MWeb, especially if it is inside something like an iStore which is very focused on devices which people like to see and touch," adds Neilson.
Redeploying staff
MWeb has five stores across South Africa: at Canal Walk in Cape Town, Durban's Gateway Mall, and three stores in Gauteng (Cresta Shopping Centre, Menlyn Park and Clearwater Mall).
Holgate could not confirm how many staff would be affected when the stores shut at the end of March, but says the company is "in the process of consulting with them with the aim of redeploying them within the company".
MWeb plans to accommodate the affected staff in new positions, specifically the new field sales teams, she says.