Ster-Kinekor to live-stream eSports tournament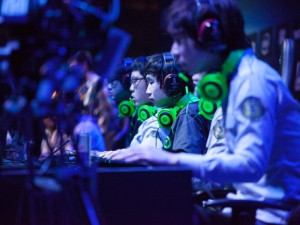 The growing popularity of live broadcasts has caught the attention Ster-Kinekor, as the company plans to live-stream the Telkom Digital Gaming League (DGL) Dota 2 Masters Tournament.
In a statement, the SA-based cinema company says it has partnered with Telkom to live-stream the semi-finals and final of the African eSports tournament this weekend.
Although live-streaming has only been around for a year, it is catching on with younger audiences whose media consumption habits demand instant information. In the last year, social media networks like Facebook and Twitter have gone as far as to launch their own live-streaming apps.
According to the statement, the live Telkom-sponsored DGL semi-finals and final will take place on Sunday, 24 July and broadcast live to a Ster-Kinekor cinema at Cavendish in Cape Town.
eSports fans and gamers will be able to experience the action live on the big screen with surround sound.
"Ster-Kinekor is always on the lookout for alternative content that attracts a different audience to enjoy a big-screen cinema experience," says Motheo Matsau, chief marketing and sales officer of Ster-Kinekor theatres.
"An event such as the Telkom DGL Dota 2 Masters Tournament definitely delivers on this business objective, and we are excited to be introducing eSports and live digital gaming to the big screen. Using this event to benchmark our approach to live-streaming, we hope its success will pave the way for other such screenings going forward."
Matsau adds: "eSports is one of the fastest growing sports that many people have probably never heard of. By partnering with Telkom for this weekend's gaming event, we are hoping to make it more accessible to a greater number of eSports fans and gamers, and to broaden its reach to new audiences."
Enzo Scarcella, Telkom's chief marketing officer, says: "In January, we launched the DGL with the largest ever eSports prize pool in South African history. In March, we held the first masters tournament in Cape Town and now we are continuing the gaming momentum with an entirely new event. We are used to seeing eSports tournaments at conventions or in shopping malls. We are now opening the doors to a whole new audience by using Ster-Kinekor's state of the art cinemas.
"It's a natural fit for Telkom when we talk technology, streaming and eSports."
Bookings are now open.