Minister is victim of fake Facebook account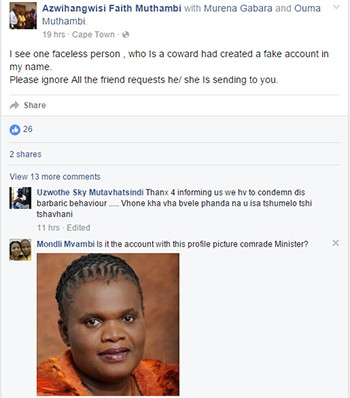 A fake Facebook account has been created using incorrect details of communication minister Faith Muthambi.
Muthambi has distanced herself from the Facebook account, noting it was falsely created using her misspelt surname.
The Department of Communications (DOC) issued the following statement warning the public against the account: "It has come to the department's attention that a fake Facebook account in the name of the minister is currently active and it contains various posts, comments and photographs attributed to the minister.
"The minister wishes to distance herself from those posts and comments, and calls on members of the public who have engaged on the said Facebook pages to be aware the views and comments are of a faceless individual, not those of the minister."
The fake Facebook account has since been deleted; however, Muthambi took to her own personal page to inform her followers to ignore friend requests from the account.
"I see one faceless person, who is a coward, had created a fake account in my name. Please ignore all the friend requests he/she is sending to you," Muthambi wrote on her Facebook wall.