Smart ID online application channel live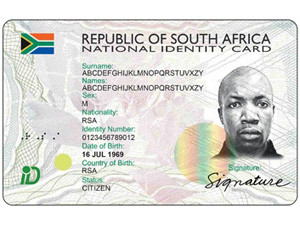 Citizens in Johannesburg, who wish to apply for their smart identification document (ID) online, will be able to do so from today as the Department of Home Affairs (DHA) has launched the eHomeAffairs portal.
Last year, the DHA announced plans to roll out an online application system (e-channel), now dubbed eHomeAffairs, as part of its strategy to move services from paper to digital and eliminate lengthy queues at its offices.
At the time, home affairs minister Malusi Gigaba said the portal would allow clients to log on to the department's Web site, apply for passports or smart IDs, pay funds electronically and book an appointment online. Once the citizen goes to their bank for an appointment, he or she will go to the counter allocated to home affairs officials, who will verify identities online and capture biometrics digitally.
Department spokesperson Mayihlome Tshwete told ITWeb the department partnered with Absa, Nedbank, Standard Bank and First National Bank to allow citizens to use their banks for the online application of smart IDs or passports.
Citizens will access the eHomeAffairs portal on the department's Web site to make a booking with their respective banks, submit their booking for biometrics via their bank and also collect the smart ID or passport from the bank branches, says Tshwete.
"From today, normal citizens in Johannesburg will be able to apply if they are between the ages of 30 to 35 years old," he says.
According to Tshwete, the department will look to roll out smart ID and passport online application services to other parts of the country over the duration of the year.
The launch of the portal follows last year's pilot phase project, which saw the four banks make smart ID and passport application services available to banking staff at the branches. The department decided to use banks as an outlet to issue smart ID cards to speed up the process.
In 2013, the DHA started the process of replacing more than 30 million green bar-coded IDs with smart ID cards that have better security features and are extremely difficult to forge.
Tshwete notes the department has so far issued more than two million smart IDs.
Speaking to Metro FM this morning, Gigaba noted the department will start the process with the 30 to 35 age group "because this is a manageable group of about four million South Africans. This is also to ensure the system doesn't crash while it is being implemented."
The project will be live only in 12 branches of the four banks, and in a few months' time, the department will roll it out to other branches, he added.
"This is the home affairs of the future, which is digitised - you don't need to come to home affairs at all to apply for your documents. It is part of a package of innovation that we are introducing in the department," Gigaba told the radio station.