Talk to the finger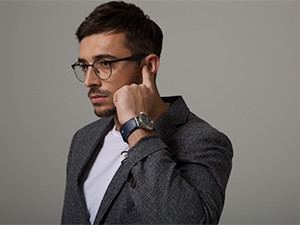 Seemingly taken directly from a 'spy movie' scene, a new smartwatch attachment lets users make and take calls by placing their finger to their ear.
New technology is often stranger than fiction, and Sgnl is no different.
It works through its patented Body Conduction Unit (BCU), which is capable of transmitting vibrations through the body, which can then be converted to sound.
The strap is connected to the smartphone via Bluetooth, and when a voice signal is received, Sgnl will generate vibrations through its BCU.
These vibrations are sent through the user's hand to the fingertip. When the fingertip is placed to the ear, the vibration echoes to create amplified sound within the closed space of the ear and the user can speak through the microphone in the Sgnl strap.
Previously called 'TipTalk', the attachment is on show at Europe's largest consumer electronics fair, IFA 2016, taking place in Berlin this week.
Sgnl can be attached to a classic watch, a variety of smartwatches or worn as a standalone accessory.
The company says using your fingertip instead of a phone ensures sound can be heard clearly, even in louder spaces.
Other features include activity tracking, gentle vibration alerts for notifications and calls - instead of intrusive ringtones - among others.
The company launched a Kickstarter campaign on 31 August and within a few hours had reached 100% of its $50 000 funding goal. By 9am this morning, it had hit 900% of funding, with 31 days still to go.
Sgnl is the brainchild of Innomdle Lab, the first company to officially spin off from Samsung Electronics. The electronics company hosts a C-LAB competition every year where employees can put forward their innovative tech ideas and possibly get funding from Samsung to pursue them.
In 2014, Innomdle CEO Hyunchul Choi won the competition with his idea for phone-less communication and had the first prototype the following year.
The company says those who backed the Kickstarter campaign will receive the product by the end of the year.