Attachment turns smartphone into portable lab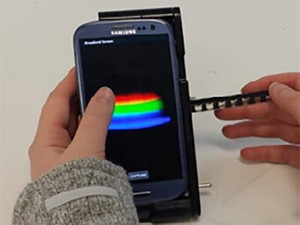 Researchers have created technology that allows a smartphone attachment to execute lab-grade diagnostic tests.
The attachment costs $550 (R7 300) to make and does not require a lab environment to perform tests on blood, urine, or saliva samples. These tests normally require equipment that costs hundreds of thousands of rands.
Researchers at the University of Illinois at Urbana-Champaign in the US used the attachment, called the TRI (transmission-reflectance-intensity) Analyzer, to perform two commercially available tests. The results were comparable to those found with clinic-grade spectrometer instrumentation.
The first test looked to detect a biomarker associated with pre-term birth in pregnant women and the second was a PKU (Phenylketonuria) test for new-borns to indirectly detect an enzyme essential for normal growth and development.
"Our TRI Analyzer is like the Swiss Army knife of biosensing," says Brian Cunningham, Donald Biggar Willett professor of engineering and director of the Micro and Nanotechnology Lab at Illinois university.
"It's capable of performing the three most common types of tests in medical diagnostics, so in practice, thousands of already-developed tests could be adapted to it."
Kenny Long, an MD/PhD student and lead author of the research study, says the analyser is more of a portable laboratory than a specialised device.
It can also potentially be used, says Cunnigham, in other areas such as animal health, environmental monitoring, drug testing, manufacturing quality control and food safety.
The TRI Analyzer works by converting the smartphone camera into a high-performance spectrometer. The device will illuminate a sample fluid with the phone's internal white LED flash and the light from the sample is collected in an optical fibre.
This light is guided through a diffraction grating into the phone's rear-facing camera. These optical components are then arranged within a 3D-printed cradle, and analysed using a microfluidic cartridge that slides through an opening in the back of the cradle.
"Our analyser can scan many tests in a sequence by swiping the cartridge past the readout head, in a similar manner to the way magnetic strip credit cards are swiped," says Long.
The researchers say the analyser can simultaneously measure multiple samples, which will make it useful for emerging markets, where people do not always have access to a clinic or hospital with diagnostic test facilities. Or, for patients with urgent health situations that require rapid results.