Rise to the challenge of the future, or sink
The technology landscape is changing fast. For the nimble and far-sighted, these changes are an opportunity; for the rest, a potentially devastating challenge. Get a head start by understanding 2018's most important IT trends.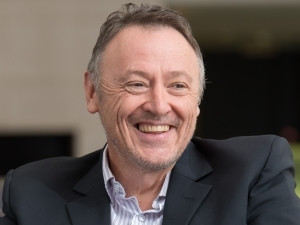 Technology's potential to drive rapid change just seems to accelerate more with each year. The most important point to note is that today's new technologies are enabling new ways of interacting with customers and business partners, as well as disrupting work and management styles.
Crucially, they are also opening the doors to new competitors from outside established industries. In the process, business models and even industry sectors are being turned on their heads.
Because all of these opportunities or threats are dependent on emerging technologies, existing enterprises need to understand both the technologies and what they might enable. Failure to do so will risk missing out on new markets, or wasting money and time on the wrong things.
Dimension Data has leveraged its experience with thousands of global customers to provide some insights into how these trends will impact business today.
Digital business: As businesses evolve to being digital the first question to ask is, Do you have a plan?
The future of business is to be digitally connected and to be able to response rapidly to any changing dynamic in the market. In order to remain relevant businesses need to truly understand their customers and what their customers want in near real time. Providing value and convenience of doing business to both customers and partners is essential. New automated and optimised digital business process will be critical for fast response, cognitive and natural interfaces critical to the user experience. Technologies like AI, process automation through robotics, augmented and virtual reality will be brought together to create these new experiences and opportunities.
The boom of information and insight that will open up as the Internet of things (IOT) expands across supply and value chains both within and external to an organisation will potentially create new industries. Similarly the blockchain, smart or dynamic documents will create a myriad of business process change and optimisation across value chains.
The impact of these emerging technologies will change the shape of your business. How you approach your journey to being digital will be critical.
Digital infrastructure: Increasing speed pre-empts ROI and TCO.
Key to enabling this is enterprise IT transitioning from the back office to being a core business enabler. A migration away from legacy IT and a move to modern platforms and multi cloud solutions will be essential to ensure speed of execution.
At present, though, 45% of organisations still find it hard to manage multiple IT environments.
When digital disruption is an ever-present menace or potential, digital infrastructures need to be flexible and lean to enable lightning-quick adaptation to market shifts. When deploying new technology, speed of deployment will trump traditional focus on return on investment or total cost of ownership.
Hybrid clouds: Integrated cost and data management is the next frontier. Hybrid clouds will play an increasing role in helping enterprise IT to meet demands for new features, faster provisioning and reduced costs. Fifty-nine percent of companies already have at least some form of hybrid cloud. Hybrid cloud management will become essential in order to manage costs and data across a heterogeneous environment.
Digital workplace: Evolution of the smart workplace. Mobile-based, real-time communications will become easier, thus replacing desktop programmes; video-conferencing will become the norm (50 percent of companies say conferencing tech has significantly improved business). Newer trends will include voice-enabled digital assistants, and IOT will create more productive work environments and offer retail customers a more personalised experience.
However, 62% of businesses say that IT issues are a major barrier to adopting these new workstyles successfully. This way replacing legacy IT with platform-based solutions will be critical to success. Where IT is slow we expect the BYOD trend already prevalent in business to transition to users bringing their own applications into the enterprise.
Customer experience: Developing and executing a good customer experience (CX) strategy will result in massive growth. We've been hearing about the experience economy and the single view of the customer for what seems like years - while 81% of organisations recognise CX as a competitive differentiator, only 13% rate their own CX delivery highly. 2018 will see new ways of combining digital technologies to offer a better, integrated customer experience across all channels.
Cyber security: Better defences without impacting on productivity. With 49% of companies experiencing a ransomware attack in 2016, no surprise that defence will be a priority. We predict the rise of robo-hunters that will actively hunt for and identify threats while AIs will begin to assist with the identification of ransomware attacks in real time.