VastraTech, SMART and GDE bring e-learning to townships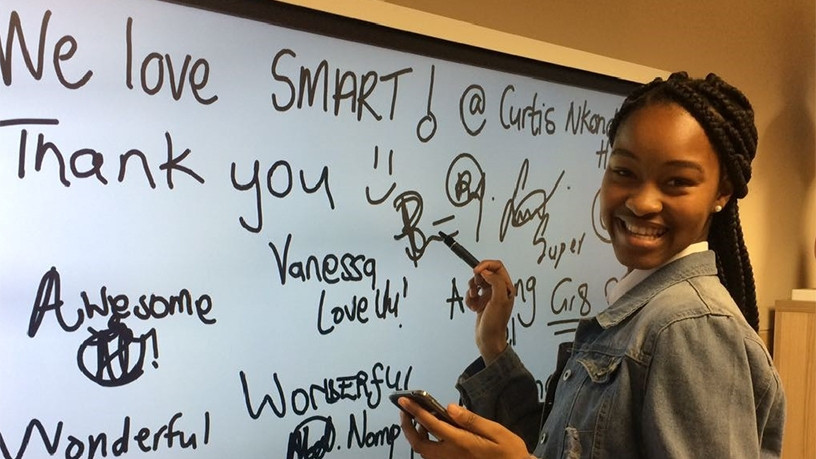 e-Learning company VastraTech, in partnership with SMART and the Gauteng Department of Education, has donated a SMART KAPP Board 84' to Curtis Nkondo School of Specialisation as part of an ongoing project to accelerate effective learning through innovation and technology.
Priced between R9 800 for an interactive whiteboard and R90 000 for an interactive panel, the smart boards are a range of modern replacement of the dry-erase boards with interactive displays.
Curtis Nkondo School of Specialisation, which was opened last year, focuses on engineering, mathematics, science, ICT, commerce and entrepreneurship, performing and creative arts as well as sports. The school is part of a group earmarked by the Gauteng Department of Education for reconditioning so as to afford disadvantaged students an opportunity to also participate in digital migration and be part of the specialised workforce in South Africa.
Speaking at the school in Soweto, south of Johannesburg yesterday, Gauteng Department of Education MEC Panyaza Lesufi said the investment in technology would help the students. "Giving all learners in Gauteng province this opportunity undoes generations of repressed opportunity, but also prepares South Africa to participate in the global economy. The investment [in technology] is to open their minds, make them innovative and make them creative. Human capacity is the new gold in the world. It's individual creativity that creates new economies. A partnership then sparked between GDE and SMART technologies to fulfil this intellectual gap in these schools, helping learners unleash their potential."
Candice Du Preez, chief operating officer of VestraTech, added that the GDE project is one of the company's biggest to date. "We have not only supplied the technology through partners but we have been involved in driving the digital literacy of teachers as well as the pedagogical value of teaching with technology in partnership with Mathew Ganiwe School of Leadership and Governance. We form part of a support team, ensuring that there is very little downtime in a classroom. Continuous professional development and professional learning communities are key in driving any adoption of technology."
Besides the GDE project, the company has also provided e-learning tools to schools in Free State and Mpumalanga. "In the Free State we fitted three schools with interactive SMART Panel with relevant CAPS aligned lessons plans based on Pearson content for grade 8 maths and science classrooms. A third project that we have been involved in is the Mpumalanga Department of Education Maths and Science Academies, they have adopted a SMART Interactive Whiteboard Solution," noted Du Preez.