Sizwe IT Group achieves internationally recognised standards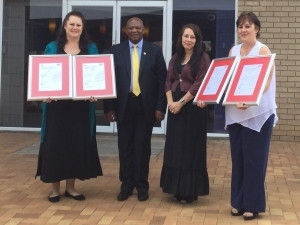 Sizwe IT Group, one of South Africa's leading integrated ICT solutions providers, just received globally recognised standards for:
* BS OHSAS 18001 - Occupational Health And Safety.
* The ISO 14001 - Environmental Management System (EMS).
* ISO 27001: 2013 - Information Security Management System (ISMS).
* ISO 9001: 2008 - Quality Management System (QMS).
Sizwe provides a wide spectrum of ICT services and solutions to a long list of prominent companies across South Africa - and it's therefore imperative to adhere to high ethical standards to maintain customer trust, confidence and peace of mind.
Reverend Dr Vukile Mehana, Chairman of Sizwe IT Group says: "Adhering to globally recognised standards provides us with a powerful set of business and marketing tools to fine-tune our performance, manage risks, and demonstrate the quality of our workmanship, products and services."
BS OHSAS 18001 - Occupational Health And Safety
The BS OHSAS 18001 Occupational Health and Safety Management system was developed in response to widespread demand for a recognised standard of certification and assessment to control occupational health and safety risks.
The OHSAS 18001 allows Sizwe to create the best possible working conditions across the organisation, and makes it possible to identify hazards and put in place controls to manage them.
Reverend Mehana says: "Meeting the requirements of this system is once again demonstrating our commitment to our employee's health and safety, and aligned with the requirements of our clients and other stakeholders for process safety management."
It helps to reduce workplace accidents and illness, cutting related costs and downtime, helps to engage and motivate staff with better and safer working conditions, and demonstrates compliance to clients and suppliers.
ISO 14001 - Environmental Management System (EMS)
With ISO 14001 in place, Sizwe demonstrates a commitment to identify, prevent and reduce environmental risks, to minimise waste and energy use, and to achieve overall sustainable development.
"We put environmental management at the heart of our operations to achieve sustainable success..." says Reverend Mehana. "This international standard helps us to reduce our impact on the environment, and to grow our business responsibly in the ever changing business landscape."
ISO 27001:2013 - Information Security Management System (ISMS)
The ISO 27001:2013 is a framework of policies and processes to manage physical, technical and procedural security controls, systematically taking account any risks, threats, vulnerabilities and impacts unique to Sizwe's operations.
This process includes people, processes and IT systems to ensure that risk treatments continue to meet Sizwe's individual information security needs, and keeping confidential information secure on an on-going basis.
Reverend Mehana says: "We adopted this system to ensure that customers' assets that are entrusted to us, are protected and secured - assets such as financial information, intellectual property and employee details or information."
"It gives customers and stakeholders the confidence in knowing that Sizwe can manage any risk and safely allow for secure exchange of information. It protects company, assets, shareholders and directors, so as to meet our legal obligations."
"In addition it gives us a competitive advantage in the industry with consistency in delivering services and products with enhanced customer satisfaction."
ISO 9001:2008 - Quality Management System (QMS)
The ISO 9001 is a set of globally recognised principles, policies, processes and procedures required for planning and executing core business projects which has an impact on customer requirements and business performance.
"This certification ensures customer satisfaction and loyalty, leading to repeat business, increased revenue, and market share with flexible and fast responses to market opportunities..." says Reverend Mehana.
Achieving these four certifications is just another great undertaking of Sizwe IT, which has a keen mission to integrate and align internal processes for increased business performance and results with cost management, efficiency, and consistency in product and service delivery.
Since its inception in 2001, Sizwe IT provided complete peace-of-mind and tailor-made ICT solutions to a host of clients in various sectors, deploying effective, resilient and reliable solutions to even the most demanding challenges with improved communication, planning and administration processes.
Growing needs for focused solutions in cloud computing, big data operations, facilities management, analytics, Green IT, physical security, IOT and many other advances, inspire Sizwe to maintain its position at the forefront of innovation, and will continue to create value in line with its clients' business strategies and performance.