Hungry for Growth
Mezzanine moves up the food chain.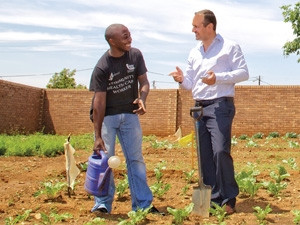 Stellenbosch firm Mezzanine has established itself as an effective go-between that links healthcare providers with remote communities across Africa. The company uses the commercial cellular networks that span much of the continent to connect government agencies, volunteer organisations and international pharmaceutical companies with large numbers of patients and care-givers. It employs a cloud-based middleware platform to develop and deploy applications that support, for example, diabetes patients in Kenya, young mothers in Mozambique and HIV prevention campaigners in South Africa. Instructions and advice tailored for these audiences are delivered quickly and securely to their mobile phones.
Mezzanine reckons its ability to bridge the gap between large organisations and scattered audiences in Africa offers big opportunities for further growth. The company has set its sights on Africa's vast and potentially lucrative agricultural sector. It's expanding its operations in Kenya, Mozambique, Tanzania, Zambia and Nigeria and is also eyeing moves into Ghana, Ethiopia and the Democratic Republic of Congo.
Economic growth
"Africa, particularly East Africa, has massive untapped potential and is set to become a major source of agricultural produce. Vegetables, fruit, maize, cotton, flowers, coffee and tea will be grown in increasingly large volumes," says Mezzanine MD Jacques de Vos.
Mezzanine aims to use its middleware platform to link multinational agricultural suppliers, advisory agencies and global food traders with the many small-scale farmers that dominate African agriculture. Farmers across much of the continent could then use their mobile phones to order fertiliser and seed, source expertise and information, manage production and transport schedules, and receive credit and payment for their goods. Matching international agribusinesses with a multitude of small-scale farmers scattered throughout Africa has the potential to galvanise the continent's agricultural sector, stimulate economic growth and increase food production for both domestic and export markets. It would also open the largely untapped African market to big international suppliers of agricultural products and services.
"Smallholder agriculture accounts for 80% of farms, and most of the land cultivated, in Sub-Saharan Africa. Multinational agribusinesses, which traditionally work with big commercial farmers, need to find new ways to reach these small-scale farmers," says De Vos. The incentive is big. Agriculture has been earmarked by the African Union as the key to the continent's economic development, job creation and food security. The sector is expected to generate annual revenues of around US$ 1 trillion by 2030.
Mobile technology, argues De Vos, can overcome the long-standing mismatch between international agribusinesses and small-scale African farmers. "Mobile technology is a major driver of economic development in Africa. The use of mobile technology to deliver business applications cuts costs, increases efficiency, improves risk management and provides unrivalled access to users across the continent," he says. Around 800 million people in Africa are estimated to have access to mobile phones and the number is set to pass the one billion mark within the next couple of years.
Mezzanine, which began developing medical solutions under the name GeoMed in 2004, has begun its foray into African agriculture. It has deployed a dairy management solution that uses SMSes to link 1 500 rural farmers in Kenya with a nearby co-operative. In Tanzania, Mezzanine is implementing a management and payment system that connects 30 000 farmers with a multinational buyer of cotton, cocoa and coffee.
Around 800 million people in Africa are estimated to have access to mobile phones.
Mezzanine is not alone in spotting rich pickings in applying mobile technology to African agriculture. Commerical rivals in the fast-growing mAgriculture business include the Hershey group's CocoaLink as well as Slim Trader, Esoko, Farmline, Drum-Net, iCow and Z-Kilimo, while development agencies such as the United Nations World Food Programme and United Nations Educational, Scientifi c and Cultural Organisation (Unesco) have also introduced mobileenabled agricultural programmes.
Growth appetite
De Vos is confident Mezzanine's experience in implementing mobile business solutions in Africa will enable the firm to harvest substantial business in the emerging agricultural sector. The company also boasts a strong ally in cellular network operator Vodacom. In 2011, Vodacom secured a majority stake in Mezzanine. The relationship with Vodacom, and its Vodafone parent, has enabled Mezzanine win business with multinational companies, says De Vos. The company, however, continues to operate as an independent entity, he adds.
Mezzanine expects the agriculture business to outperform its healthcare operations, which currently generates 75% of its revenue, within three years. Most of this new business will come from outside South Africa. "We're not pitching our agricultural solutions in South Africa because farming in this country is far more commercialised and co-ordinated than elsewhere on the continent. We're addressing the needs of smallholder farmers who have few ties with big business," says De Vos. Other areas of expansion include education, logistics and workforce management.
Mezzanine clearly has an appetite for growth. To satisfy this appetite, it must repeat its success in the healthcare sector in the more lucrative and competitive agricultural arena. Its performance will also depend not only on its own endeavours, but on whether African agriculture can yield the growth the continent's leaders expect.
This article was first published in Brainstorm magazine. Click here to read the complete article at the Brainstorm website.