How are companies really using SharePoint?
Many companies have heard of and make use of SharePoint, but don't understand the full range of its capabilities.
It is more than just "somewhere to put your documents". SharePoint is an enterprise platform that solves multiple business challenges.
With this in mind and in an effort to provide a better view of the real-world application of the SharePoint platform and it capabilities, Concero IT, a Specialist SharePoint Service Provider, took it upon itself to analyse exactly what companies are using SharePoint for, and why.
As illustrated in the infographic, SharePoint is a very powerful single platform that can address multiple business requirements. This differentiates it from the myriad of other purpose-built platforms and CMS systems on the market.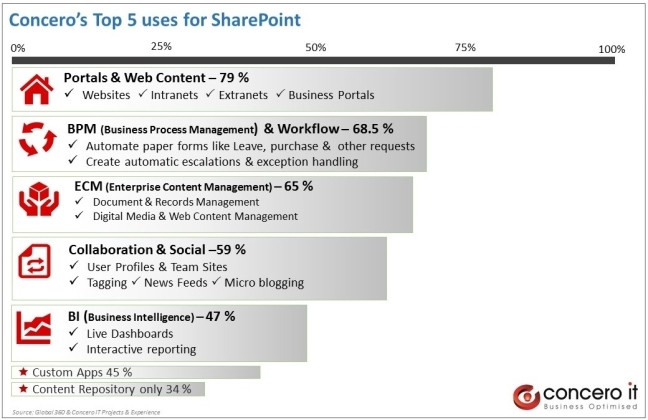 The common starting point for most companies with their SharePoint journey seems to be a company intranet as a central point of access to engage users and build a solid foundation for future solutions. However, too many intranet portals fall flat because they are not user-centric, intuitive or easily navigable. Finding information is frustrating and complicated. Concero IT has found the best way to address this is to identify the common features, functionality or information within the organisation and to develop these into key features or highlights in the portal that are easily accessible.
"User adoption is key to maximising the value derived from SharePoint. You need to connect and empower people with the right tools and access to information by creating engaging and rich interactive solutions," explains Craig Gillham, Director at Concero IT.
SharePoint is not just a portal for internally facing sites though. With the release of SharePoint 2013, SharePoint has evolved into a truly functional and powerful platform for external Web sites too, especially in terms of key functionality such as SEO (search engine optimisation), which is increasingly critical to your site's ranking in popular search engines such as Google and Bing. In addition, SharePoint is now a lot more mobile aware and friendly, with the ability to target different devices with the device channel functionality.
The licensing model has also been simplified, where previously a separate licence was required specifically for internet-facing sites. "These are now very compelling reasons why companies are choosing SharePoint 2013 for their websites. Concero IT has found a considerable increase in customers requesting public-facing Web sites built on the SharePoint platform," says Henri Fourie, Concero IT CEO.
The next step in the journey, according to Craig Gillham, is to "optimise your 'out-of-the-box' SharePoint investment, putting it 'on steroids' to deliver real business value and maximise your ROI". The real value of SharePoint is realised when it is leveraged for use across the business in a number of areas and solutions. These include, but are not limited to:
* Managing and tracking documents with version control and auditing.
* Sharing project information, tracking tasks and creating collaborative team spaces, thereby giving visibility and enabling control.
* Connecting people and inspiring collaboration within the organisation.
* Providing a platform on which to build custom business solutions and automating and streamlining business processes with workflow-based solutions.
* Developing rich interactive interfaces for management reports, graphs & statistics and giving business decision makers the insights they require in order to make informed business decisions.
As much as solutions need to be functional, they also need to look good in order to drive user adoption. SharePoint is the perfect platform to create attractive and engaging solutions that your users will want to make use of. Sadly though, there is a common misconception that it is difficult to make SharePoint look 'good' as well as be functional. With the right skills and design know-how however, it is possible create visually appealing and engaging solutions on SharePoint.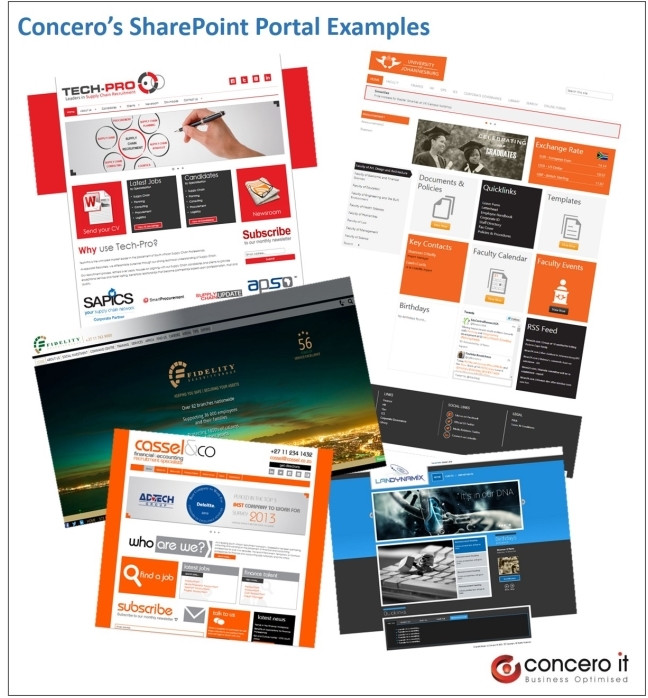 We are living in the era of technology. It is part of our everyday lives, but we still face the challenge of finding the right tools that enable us to be more productive and profitable. We need to maximise the value we derive from our technological resources to their fullest extent. Concero IT has seen their customers achieve success by appointing business champions who engage with the business to identify needs and help drive initial user adoption.
IT departments have become much more than just a support service to business. They are no longer just the guys who set up our email or connect us to the printer. They have evolved into business enablers. CIOs, along with financial managers and marketing managers, choose SharePoint for its flexibility, usability and extensibility. Just having SharePoint is not enough, you need to have access to the right skills and experience. But be aware, the lack of necessary internal skills is often a key reason for the failure of SharePoint implementation in organisations.